•
Conservation & Research, Garden News
June 14, 2023
Landscape Transformations Project Kicks off at Elings Park
By Denise Knapp, Ph.D.
Everybody loves witnessing a transformation. From "Pimp my Ride" to "Property Brothers," it's so satisfying to watch something (or someone) go from sad to spiffy! Over the next five years, Santa Barbara Botanic Garden will be transforming public gardens and other open spaces around Santa Barbara County to native habitat havens. Just like the cars and homes in reality TV shows, these open spaces will not only be more beautiful, but more functional by the time we're done. That's because native plants have evolved with the native creatures around them, and are better able to support the food webs that stem from their photosynthesis.
Through this project, we will increase climate resiliency and biological diversity while improving human health and well-being. How on earth can we do all of that?! By creating climate-adaptive, biodiverse native habitat and by building both human and natural communities in well-loved places.
We'll start by helping people get closer to nature in a familiar landscape, through nature walks and community science tools.
Then we'll run our ideas for the space by them in a series of community forums.
And lastly, we'll ask our human communities for their help in transforming that landscape with native plants and studying the myriad creatures that colonize.
Join Us For A Hike
We are thrilled to be getting started this summer at Elings Park, a 230-acre public landscape along the coast in western Santa Barbara. It predominates a network of open spaces in the Arroyo Burro Creek watershed, which supports important wetland habitat and is a key corridor for wildlife. The privately owned, non-profit park attracts over 200,000 visitors each year, including over 800 dog parents, and supports a wide range of recreational opportunities, from mountain biking to hang gliding. Much of the park has been heavily disturbed, and is currently dominated by invasive species such as fennel, mustard, and Mediterranean annual grasses.
A series of free monthly nature walks from June through December of 2023 will highlight different plants, insects, and birds at the park, helping participants to view a familiar landscape with new eyes. These hikes will be led by nine different members of the Garden's Conservation & Research and Education departments, from botanists to birders to invertebrate ecologists. These hikes will be from 9 to 10 am on Saturday mornings; you can find out about the dates and themes for each hike here.
Setting a Baseline with iNaturalist
To prepare for these hikes and understand the baseline state of the park, Garden staff and a few public helpers participated in a May "BioBlitz", an intensive field survey attempting to record all of the living species within a designated area. We used the popular app iNaturalist to gather these data, and added 42 vascular plant taxa to the known flora for the park, an increase of almost 21% over what was known prior to our visit! We also observed 73 invertebrates, 13 vertebrates, 8 fungi, and 25 lichens, and found a nice set of remnant native plants, which could be a seed source to jump-start our habitat restoration.
The public can participate in planning the habitat restoration in a series of four community forums between August 16 and September 16. These will be held via Zoom and in-person both at Elings Park and Santa Barbara Botanic Garden. Staff will share their findings and ideas, then solicit feedback from the many people who know and love the park.
Habitat Restoration Project Starting Soon
The habitat restoration will kick off as a one-acre science experiment in the core of the park, atop the mesa above the main parking lot. Garden staff have begun to survey the plants, bugs, and birds this spring within this acre and an adjacent acre that will not be transformed. We'll be able to compare the abundance, diversity, and composition of life both before and after the transformation, and between these two areas. The data that we gather will help us to understand more about which plants support which organisms, and, we expect, prove experimentally the benefits of native plants.
All of the top threats to biological diversity can be mitigated by planting native plants in our built landscapes. Creating habitat within our developed spaces can soften our impact and even help plants and animals adapt to climate change by providing corridors of dispersal as species adjust their ranges in response to changing habitat conditions. Planting native plants ensures that harmful invasive plants are not being introduced or spread. And incorporating drought- and heat-tolerant plants from southerly distributions can assist in the migration of these species to suitable environments.
The biodiversity created in diverse native habitats builds resiliency to climate change – but native plants can also stave off the worst effects of climate change by absorbing carbon. In fact, studies indicate that restoring native plant communities could absorb enough carbon to compensate for more than 20% of U.S. greenhouse gas emissions. Native plants typically require less water than non-natives while also providing habitat for a greater number of animals, helping nature to help us. Through this project, we hope that everyone is inspired to add native plants to their home gardens or advocate for native plants in other landscapes. In the coming year, we'll be helping folks get started by enhancing the content on our website, including "how-to" videos, photo galleries, and other online tools to help them successfully design, plant, and establish a native plant garden. And even if you can't get involved at Elings Park, we'll have many stories to tell and share. Stay tuned!
Explore Insights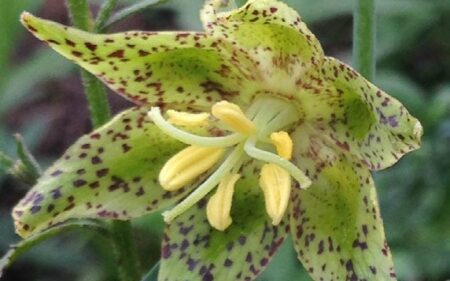 •
Botany, Conservation & Research
•
Conservation & Research