•
Horticulture, Gardening with Native Plants
November 3, 2023
Find Your Perfect Plant Match
By Kaylee Tu
We are all too familiar with the countless hours spent looking for love, holding on to the hopes of discovering that special match that checks all your boxes. Tall, strong, low maintenance, stable, yellow-flowered with evergreen leaves … Wait. Are we talking about people here?
If you're anything like us plant lovers, finding your perfect plant match is a little like searching for love. Every plant might not be the one, but we can guarantee there is a native plant out there suited just for you. One that meets all your gardening dreams.
Join Horticultural Educator Alejandro Lemus as he takes on the role of matchmaker to help nursery shoppers find the ideal plant pairings for their gardens.
While our Nursery is open throughout the year, we stock up even more during the fall when conditions are right for getting your new plants in the ground. With this in mind, join us in celebrating this fall planting season during our special kick-off weekend.
Find Your Perfect Plant Match
Now it's time to go plant shopping. It isn't always the easiest thing to find your perfect plant match, but every sophisticated gardener is also a good matchmaker. Come with us as we help you find your perfect native plant match.
Meet Lily
Lily has been looking for a perfect plant match forever. She's tried all the apps like Flora Mingle and Budding Connections, but she just hasn't found quite the right one yet. She's looking for the perfect thing for her drought tolerant garden. She loves watching bees and butterflies and has had a lot of erosion control problems in her garden in the past.
To help a drought tolerant garden manage erosion and attract pollinators, Alejandro suggests taking a look at the pozo blue sage (Salvia 'Pozo Blue'). They prefer full sun. After they're established, they're drought tolerant and actually produce copious amounts of flowers in the spring while helping stabilize the soil, preventing erosion. The flowers will attract lots of butterflies and bees to your garden, making this a great addition for a pollinator habitat.
With pozo blue sage, I think we found a perfect match for Lily!
Meet Daisy
Daisy has a lot of space to cover in her yard, so she's looking for a plant that spreads. Her garden has full sun to full shade and she loves bird watching.
For a groundcover that can handle full sun and shade, Alejandro suggests the California wildrose (Rosa californica). It can grow anywhere from full sun to shade. It produces rose hips containing yellow seeds which are highly attractive to birds. And, because it spreads via rhizomes, it can help carpet an area. California wildrose can easily grow to form a large thicket in your yard.
Is this a perfect match? I think we found it!
Meet Rose
Rose is looking for a lot of bright color in her garden. She also thinks it's important to have plants that attract birds because she loves watching hummingbirds. Since she travels most summers, she doesn't mind plants that go summer dormant.
To create a habitat for hummingbirds with lots of color, Alejandro suggest the jelly bean lemon monkeyflower (Mimulus 'Jelly Bean Lemon'). It's highly attractive to hummingbirds because of the tubular shape of their flower. It comes in many different colors and varieties and also goes summer dormant to help the plant withstand drought.
Another match made in the Garden!
Three Helpful Tips for Your Next Visit to the Nursery
Finding the perfect plant match for your garden can get easier with the right resources. Here's a few tips to help you navigate your next plant shopping visit.
Asses Your Site Conditions
Before shopping for your plants, take note of the site conditions in your yard. Certain plant species will prosper under specific soil conditions, so it's important to observe and take note of your soil type. For example, land areas with loose, shallow topsoil are the most prone to erosion, and you may need to consider plants with deep spreading roots to help control this.
Consider Your Goals and Preferences
While shopping, keep in mind your goals and preferences. Physical attributes such as certain colors or textures may be important to you. You also want to remember your overall garden goals, such as establishing a water wise garden or a pollinator habitat. Equally important is your available time. Some species are low-maintenance and require minimal care, making them a great choice if you prefer not to spend a significant amount of time pruning or weeding.
Refer to Your Garden Design Plan
Lastly, remember to refer to your garden design plan. Consider the layout of your garden and any microsites in your yard. Think about creating structure with different size plants for your ground plane, mid-story, and canopy. If your design includes mass planting or hydrozoning, make sure to buy appropriate quantities of plants.
Thanks for sticking with us throughout this fall planning series. If you missed the others, be sure to check out Three Tips for Mastering Garden Design and Establishing Your Garden Goals for more tips and tricks.
Explore Insights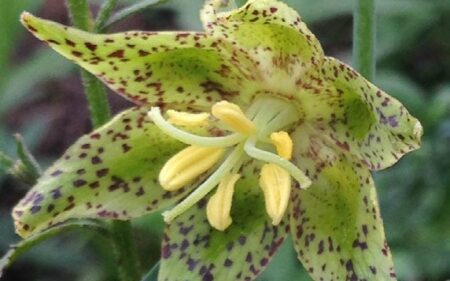 •
Botany, Conservation & Research
•
Conservation & Research, Gardening with Native Plants