•
Horticulture, Gardening with Native Plants
October 13, 2023
Establishing Your Garden Goals
By Kaylee Tu
As the summer season draws to a close, fall ushers in the perfect planting season for California natives. Shorter days, cooler weather, and the promise of winter rains, provide optimal conditions for plants to develop deeper roots and robust, healthy foundations.
To celebrate the fall planting season, the Garden's Nursery will be stocked with an assortment of unique and common native plants. Before you head to the Nursery to pick out your plants, it is important to do some garden planning to know what you are looking for.
There are endless possibilities for your garden when planting with California natives. These remarkable plants possess the unique ability to turn ordinary yards and neighborhoods into thriving, natural ecosystems. With hundreds of California native plants to choose from, creating a garden that suits all your needs can be a daunting task. Join Horticultural Educator, Alejandro Lemus, as he shares his fall planning tips to ensure you are prepared for the upcoming planting season. Follow along with his fall planning series and you'll be a sophisticated gardener in no time!
Finding Inspiration
The first step of fall planning is establishing the goal of your garden. It may be helpful to visit your local botanic garden to get a sense of what flower colors you like and what foliage textures interest you so that you can become inspired. Observe the spaces that draw your attention, as they can provide valuable insights into what you'd like in your own yard. Many individuals have a variety of goals in mind for their garden.
Pollinator Habitat
Your goal may be to create pollinator habitat. When creating pollinator habitat, it's important to include flowers that bloom year-round, especially in the heat of summer when not much else is in bloom. These blooms also provide a beneficial food source for insects.
Embracing a pollinator garden offers a multitude of benefits. Integrating a greater number of native plants into your landscape opens up increased opportunities to attract a diverse and thriving community of life to your yard.
Among the remarkable qualities of native plants is their relationship with vital pollinators and wildlife. Pollinators play a crucial role in plant reproduction and contribute to the genetic diversity of plants through their pollination efforts. Some of these pollinator-plant relationships are highly specific, relying on particular plant species for food and pollination. Non-native plants might not provide the needed sustenance or support for pollinators.
In addition to their ecological importance, bees and butterflies offer a visually captivating experience. Many individuals are eager to create pollinator gardens to enjoy the diverse array of life that visit their outdoor spaces.
A Few Pollinator Plant Options
California Poppy (Eschscholizia californica)
Goldfields (Lasthenia glabrata)
Narrow-leaf Milkweed (Asclepias fascicularis)
Coyote Mint (Monardella villosa)
Western Redbud (Cercis occidentalis)
Bush Sunflower (Encelia californica)
Water Wise Gardens
Perhaps your goal is to create a water wise garden. You may want to look to California's arid regions to find plant inspiration. For example, Parish's Goldeneye (Bahiopsis parishii), a plant that blooms in the heat of the summer, is drought tolerant once its established, and will help reduce your water cost in the long run.
Native plants are naturally adapted to thrive with minimal water. Certain species are exceptionally drought-tolerant and don't require any supplemental watering, even during the arid summer months. Water wise gardens will dramatically reduce maintenance, water usage, and associated costs. By removing the need for lawn mowing, fertilizing, pesticide application, and frequent watering of thirsty plants, you'll have more time to fully appreciate and enjoy your garden.
A Few Drought Tolerant Plants Options
Catalina Cherry (Prunus ilicifolia ssp. lyonii)
Desert-lavender (Condea emoryi)
Toyon (Heteromeles arbutifolia)
Carmel Sur Manzanita (Arctostaphylos 'Carmel Sur')
Lemonade Berry (Rhus integrifolia)
California Buckwheat (Eriogonum fasciculatum)
Check out our in-depth guide to water wise native plants.
All-Season Gardens
Another goal you may have is to create an aesthetically pleasing garden that is green year round and produces an abundant number of flowers. In this case, Ceanothus, a plant that is green year round and blooms in the springtime, which is paired next to Manzanita, which is also green year round, but blooms earlier in the winter, producing a long calendar of flowers.
When planning for a garden that maintains its visual appeal throughout every season, consider evergreen plants. Evergreen plants retain their leaves throughout the entire year, providing your garden with beautiful green color across the seasons. Another strategy for creating a year-round beautiful garden is to opt for plants with varying seasonal flowering cycles. Explore our Blooming Calendar to find native plants that flower in various seasons.
A Few Evergreen Plant Options:
Santa Cruz Island Ironwood (Lyonothamnus floribundus ssp. aspleniifolius)
Howard McMinn Manzanita (Arctostaphylos 'Howard McMinn')
Nevin's Barberry (Berberis nevinii)
Snow Flurry Ceanothus (Ceanothus 'Snow Flurry')
Lemonade Berry (Rhus integrifolia)
California Buckwheat (Eriogonum fasciculatum)
Coffeeberry (Frangula californica)
Catalina Currant (Ribes virburnifolium)
Feeling fancy yet? Follow Alejandro's October planning series so you don't fall behind this planting season. You can catch him on our social channels or come back here as we publish updates along the way.
Explore Insights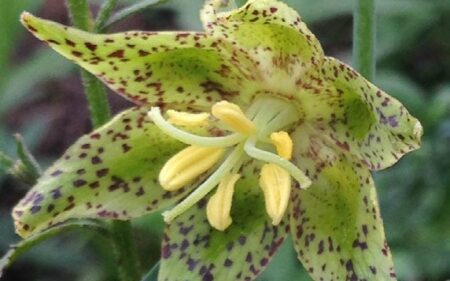 •
Botany, Conservation & Research
•
Conservation & Research, Gardening with Native Plants