Self-Directed, Outdoor Discovery in New Immersive "Backcountry" Opening at Santa Barbara Botanic Garden in June 2022
By SBBG
Safe, accessible over 4-acre garden to allow for unstructured play and exploration in nature for kids, families, and young at heart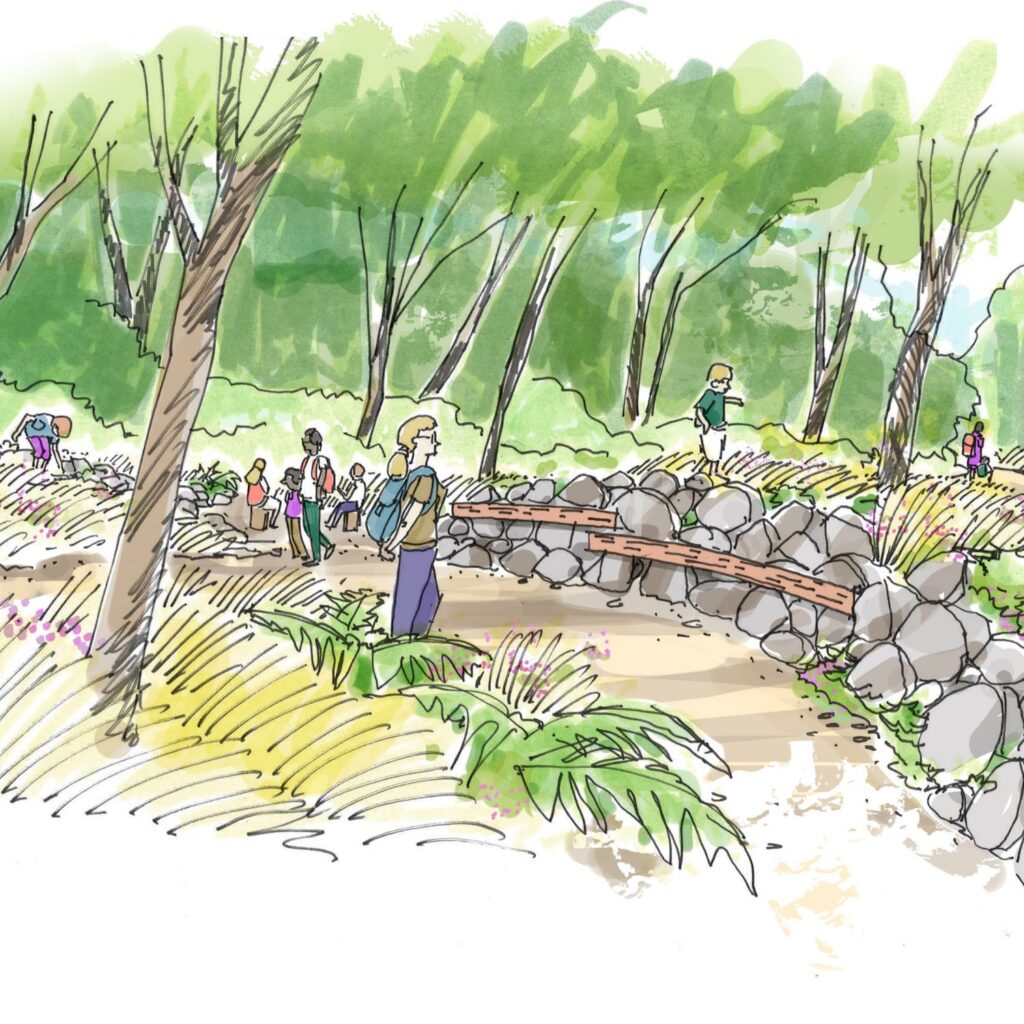 Santa Barbara, Calif. – January 19, 2022 – The Santa Barbara Botanic Garden is announcing its newest project – an immersive garden where young people (and the young at heart) can climb, jump, run, explore, play, and connect with nature. Encompassing over 4-acres west of Mission Creek, it features inviting and distinct areas designed to inspire unstructured, self-directed nature experiences. Aptly called "the Backcountry," the space is designed for all to enjoy but is focused on kids aged five to 13 years old. Currently under development, the $4 million project opens in June 2022.
"Through decades of nature education work here at the Garden, we know that getting kids excited about nature isn't about presenting a set of facts or charts or even cool maps," said Garden Executive Director Steve Windhager. "It's about connecting with their instinct for story and play, igniting their imaginations, and stimulating their senses."
The Backcountry is designed as a play area with activities including climbing on fallen trees, rock-hopping, looking for critters under logs, exploring Mission Creek and environs, building forts out of natural materials, finding wildflowers, navigating a maze, hiking through different habitats, and other unstructured pursuits. The Garden's Backcountry Casitas program, a series of temporary and unique outdoor playhouses, will be located here. Nature educators called Backcountry Rangers will be on hand to maintain the space and help guide the visitor experience and ensure safety. The path is stroller accessible, with sitting areas for visitors to take in the natural surroundings.
"We want children to be able to lose – and discover – themselves in nature," adds Windhager. "Imaginative, exploratory playtime is especially important for them in these days dominated by computer screens and devices, organized sports, and other group activities."
Natural features of the site were first and foremost when designing the Backcountry's 10 distinct, interactive areas. Existing fallen trees and boulders were integrated, including several boulders brought in from the site of the 2018 Montecito debris flow. Additional native trees, shrubs, and foliage are being planted to ensure the canyon retains its natural character and replaces trees that were lost or damaged in the 2009 Jesusita fire.
Though more than 65% of the budget has been raised to date, the Backcountry fundraising campaign is still underway. The budget includes a $2.5 million endowment to ensure staffing and upkeep in perpetuity. For more information about supporting the Backcountry, visit www.sbbg.org/the-backcountry.
Explore the Backcountry
Trail Head: The Backcountry can be accessed from several points in The Garden, but just over Campbell Bridge is the main jumping off point set amid Sycamore Grove.
Upper Creek Walk: A winding trail under a canopy of coast oaks, California bay laurels, sycamores, and other native plants with views of riparian areas along Mission Creek. Interactive and obstacle course-type play on and around fallen logs in the Fallen Forest and through a series of shallow stone waterfalls that slow and clean runoff from Tunnel Road before it enters Mission Creek. At the Salamander Snag, boards and logs can be flipped over to view the critters living underneath. The Garden's existing Hidden Centennial Maze, developed in partnership with the Garden Club of Santa Barbara, has been integrated with the addition of a new secret entrance.
Basecamp: A sunny meadow with scattered seating where kids can "park" their parents in the shade and go adventuring while staying in earshot. Wifi equipped. Hangout spaces with comfortable seating, boulder scrambling, wildflower discovery, and more. Backcountry Rangers have a homebase at the Ranger Station. A compositing bathroom and water bottle filling station are accessed from here. Nearby is the Lower Meadow and a Casitas playhouse.
Raptor's Perch: A short hike alongside portions of the historical Mission Aqueduct leads to the highest point of the Backcountry. This "perch" offers views and will house another Casitas playhouse. Nearby, kids can clamor over large boulders in the Coyote Bramble.
Quail Grove: A relaxed space adjacent to Mission Creek where boulders, leaf litter, and woody debris, and other natural play elements allow for shelter building, herb gathering, weaving with natural materials, and water gathering. A Casitas playhouse will also be positioned here. Nearby, trees have been shaped to create Living Structures. Fossil View Crossing over Mission Creek is another entrance and exit from the Backcountry.
# # #
About Santa Barbara Botanic Garden:As the first botanic garden in the nation to focus exclusively on native plants, the Santa Barbara Botanic Garden has dedicated nearly a century of work to better understand the relationship between plants and people. Growing from 13 acres in 1926 to today's 78 acres, the grounds now include more than 5 miles of walking trails, an herbarium, seed bank, research labs, library, and a public native plant nursery. Amid the serene beauty of the Garden, teams of scientists, educators, and horticulturists remain committed to the original spirit of the organization's founders – conserve California native plants and habitats to ensure they continue to support life on the planet and can be enjoyed for generations to come.