"Pressed: Botanical Art and the Herbarium" Now on View at Santa Barbara Botanic Garden Gallery
By SBBG
Henry Evans' "Plant portraits" of California wildflowers juxtaposed with pressed specimens from The Garden's Herbarium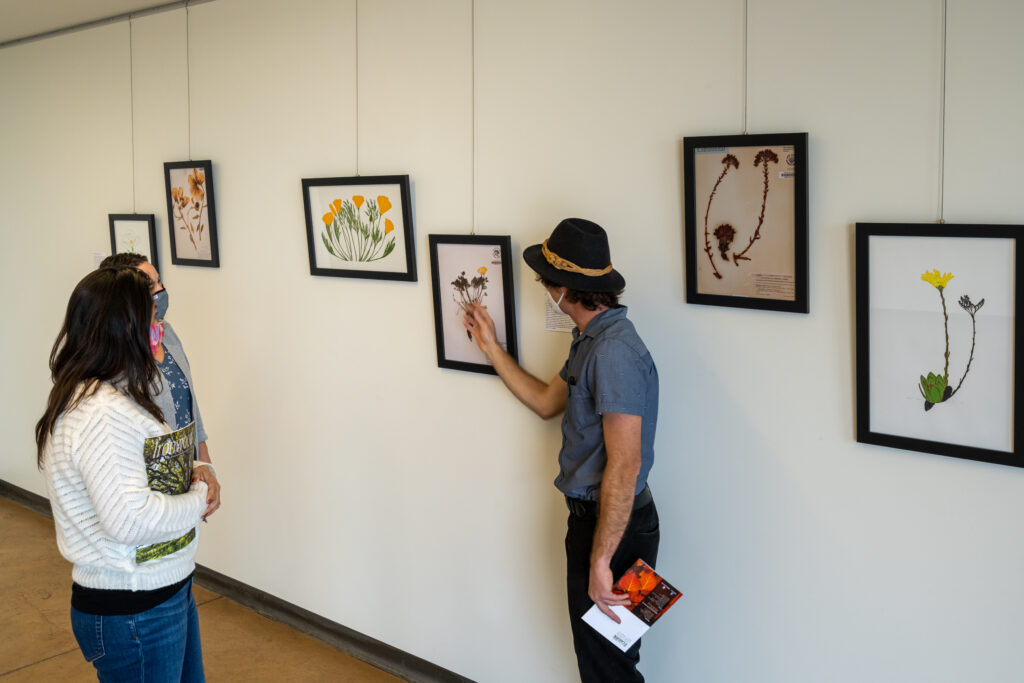 Santa Barbara, Calif. – January, 27, 2022 – A new exhibit now on view at The Santa Barbara Botanic Garden Gallery presents images of a dozen California wildflowers, both as specimens from The Garden's Herbarium and as life-size linocut prints by artist Henry Evans.
"Pressed: Botanical Art and the Herbarium" is centered on flowering plants in The Garden's Nursery and living collection and include iconic California poppy (Eschschlolzia californica), columbine (Aquilegia formosa), manzanita (Arctostaphylos manzanita), and redbud (Cercis occidentalis), among others (see full list below).
These "plant portraits," as Evans called them, are from The Garden's permanent art collection, part of a gift of 41 limited edition prints from Ada Wood in memory of Amy Wood Nyholm. The exhibit is open through mid-March 2022.
"These twelve pairs invite viewers to consider the parallels and connections between artistic and scientific processes," says Michaela Mohrmann, PhD, Interpretation Curator. "This exhibit is not only a reflection of The Garden's own interdisciplinary nature, but also delves into the history of herbaria to explore how art and science have worked hand-in-hand since the Renaissance."
The Garden Gallery, located on the bottom floor of the Pritzlaff Conservation Center, is a space to bring people together to celebrate art, science, and native plants. It is open during regular Garden hours, and entry is free with Garden admission.
The Garden is open daily from 10 a.m. to 5 p.m. and offers a members-only hour from 9 to 10 a.m. For more information on Santa Barbara Botanic Garden or its plans for 2022, please visit sbbotanicgarden.org
Plants Featured in "Pressed" 
| | |
| --- | --- |
| Baby blue-eyes (Nemophila menziesii) | Douglas iris (Iris douglasiana) |
| Bitterroot (Lewisia rediviva) | Dudleya (Dudleya farinosa) |
| California fuchsia (Epilobium canum) | Lupine (Lupinus bicolor) |
| California poppy (Eschschlolzia californica) | Manzanita (Arctostaphylos manzanita) |
| Columbine (Aquilegia formosa) | Matilija poppy (Romneya coulteri) |
| Clarkia (Clarkia concinna) | Redbud (Cercis occidentalis) |
About Henry Evans
Henry Evans was born in Superior, Wisconsin in 1918, and passed away in Saint Helena, California, in March 1990. He attended the University of California, Berkeley; City College of San Francisco; San Francisco State College; and the University of Arizona. Evans opened Porpoise Book Shop, his first bookstore, in Tucson, Arizona in 1942 but relocated in San Francisco in 1944. In 1949 he purchased an 1852 Washington Hand Press and began producing letterpress books as Peregrine Press.
He began making botanical prints in 1958 and depicted 1400 subjects in 31 years. He was the subject of more than 250 one-man shows around the world and almost every state in the union.
Self-taught as a printer, botanist, and artist, Evans drew directly from living subjects, all of which were portrayed life-size. Printing was done by hand, using linoleum as a printing surface. All the editions were limited, with the linoleum blocks destroyed following printing.
Evans' linocuts are found in print collections of the Albertina in Vienna, the Library of Congress in Washington, and the New York Public Library; in various museums and libraries across the country; and in numerous private collections in America and abroad. Among the artist's numerous publications are "The State Flowers of the United States" (1972);" Botanical Prints: With Excerpts from the Artist's Notebooks" (1977); and "California Native Wildflowers" (1985). For more about Henry Evans, visit www.henryevans.com.
# # #
About Santa Barbara Botanic Garden: As the first botanic garden in the nation to focus exclusively on native plants, Santa Barbara Botanic Garden has dedicated nearly a century of work to better understand the relationship between plants and people. Growing from 13 acres in 1926 to today's 78 acres, the grounds now include more than 5 miles of walking trails, an herbarium, seed bank, research labs, library, and a public native plant nursery. Amid the serene beauty of the Garden, teams of scientists, educators, and horticulturists remain committed to the original spirit of the organization's founders – conserve CA native plants and habitats to ensure they continue to support life on the planet and can be enjoyed for generations to come.