New Brand Launch and Website by Santa Barbara Botanic Garden on June 9
By SBBG
Brand Celebrates Conservation as Botanic Garden Focused on California's Native Species Nears 100th Anniversary
New Video Expresses Aspirations of Garden and New Brand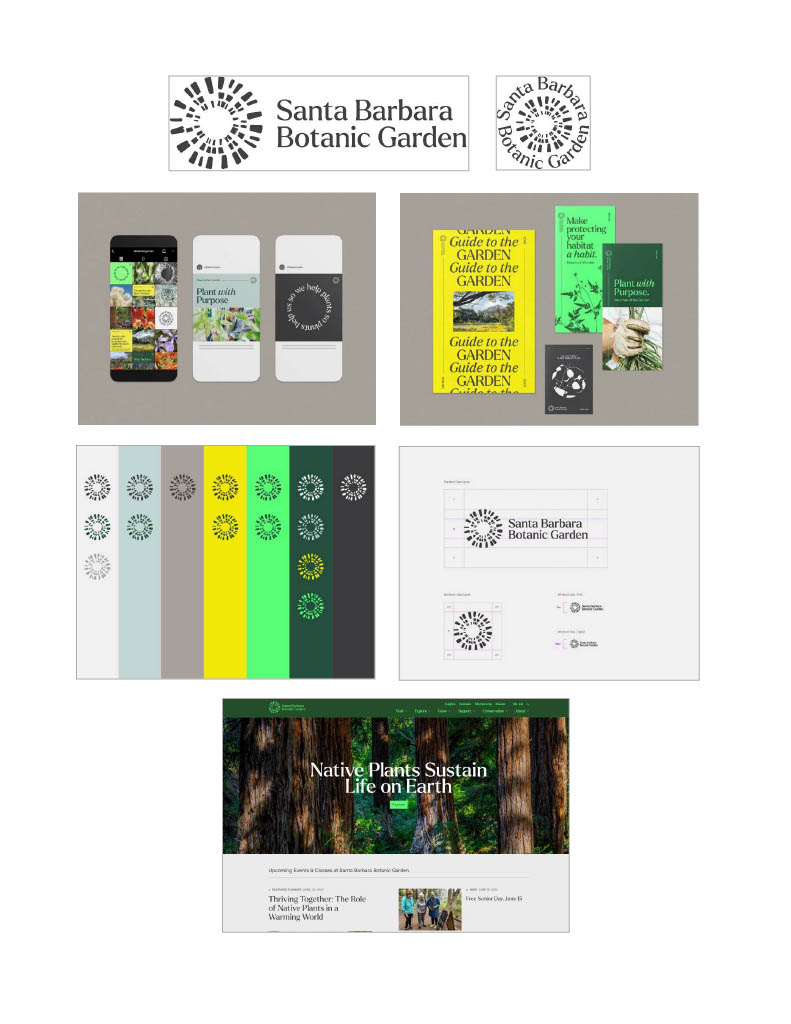 Santa Barbara, Calif. – June 9, 2022 – Four years away from its 100th anniversary, Santa Barbara Botanic Garden today unveils a new brand launch including a new visual identity, URL, website, and communications strategies that can be seen in newsletters, social media, events, and more. Founded in 1926, the 78-acre botanic garden was the first in the nation to focus exclusively on native plants, specifically those from California. It is now regarded as a leader in native plant conservation. 
"Reimagining the Garden for the next 100 years forced us to consider not only our past and present but also what we hope to accomplish well into the future," said Executive Director Steve Windhager, Ph.D. "With nearly a century of work dedicated to understanding the relationship between native plants and people, we are a conservation organization driven by our mission to conserve native plants and habitats because we know native plants sustain all life on Earth."
A new two-minute video reveals the aspirations behind the Garden, including the role of native plants in facing challenges like climate change (https://youtu.be/ZwtGiYSfv18).
To amply its impact, the Garden's brand launch includes a new and reimagined website. Going live today, the Garden's URL has been changed from sbbg.org to the more descriptive SBBotanicGarden.org.
"With inspiring imagery and easy access to our current conservation work, recommended planting lists, and educational opportunities, our new website empowers us all to plant native plants for collective action," continued Windhager.
The Garden's new brand launch is the result of an 18-month process by staff, board, and key stakeholders guided by J2, a branding agency in Philadelphia. It captures the synergy between people and the planet, prioritizes conservation, and celebrates a spirit of community and collaboration. 
"Branding work is so much more than creating a new logo," says Jaime Eschette, marketing and communications director. "The new identity had to reflect the Garden's mission, resonate with key audiences, and reflect today's most pressing environmental needs and dialogues."
Capturing the endless changes of the natural world and the Garden's optimistic stance that change is possible, the resulting new logo mark is intentionally abstract leaving viewers free to create their own interpretations.
"You may see the sun, an iris, the pistil of a flower, a DNA sequence, or something else entirely. I see tree rings, which reminds me of the slow but persistent way of nature," says Eschette. "The consistent visual look differentiates us and further facilitates the communication of our mission so we can all achieve a world filled with beauty and biodiversity."
# # #
About Santa Barbara Botanic Garden: As the first botanic garden in the nation to focus exclusively on native plants, Santa Barbara Botanic Garden has dedicated nearly a century of work to better understand the relationship between plants and people. Growing from 13 acres in 1926 to today's 78 acres, the grounds now include more than 5 miles of walking trails, an herbarium, seed bank, research labs, library, and a public native plant nursery. Amid the serene beauty of the Garden, teams of scientists, educators, and horticulturists remain committed to the original spirit of the organization's founders – conserve California native plants and habitats to ensure they continue to support life on the planet and can be enjoyed for generations to come. Visit www.SBBotanicGarden.org.