The Garden of my Past, Present, and Future: A member story spanning three generations in the Garden
By SBBG
Harriette Rees Azlein was introduced to the Santa Barbara Botanic Garden for the first time at five years old. New to California and struck with childlike wonder, The Garden offered her an exciting world of exploration, freedom, and even a little bit of thrill. As she made her way down the steep path leading into the canyon, she mustered the courage to descend into the great wilderness. There, her eyes widened as she gazed across the landscape and then raised them skyward to the towering redwood trees. That was 94 years ago when The Garden was younger than Harriette. Today, Harriette is 99 years young and a regular visitor to The Garden. In August, on one of these visits, Harriette struck up a conversation with Zach Kucinski, our plant sales coordinator. The pair were sharing stories and looking through The Garden's photo archives when she noticed a familiar photo from the 1940s.
"Stop! That's me!" Harriette exclaimed. The photo captured one of Harriette's favorite memories in The Garden: herself at 19-years-old in what was the strawberry meadow at the time. (It wasn't until 1962 that the strawberry was removed permanently after becoming too weed-infested and the meadow was gradually converted to a mixture of perennials and scattered wildflowers.) She was visiting The Garden as she frequently did with her high school friend, Anna Marie. That same day, Josef Muench, the famous nature and landscape photographer who settled in Santa Barbara in 1930, was also at The Garden. He was looking for someone to pose for his photo of the strawberry meadow.
"He asked if we would pose for him and we said okay," Harriette said. "Anna and I had just graduated high school at the time. He had me pose for another picture that was on the cover of Health Magazine. It was all fun."
Growing up, Harriette's family spent a lot of time in The Garden. She remembers loving the Mission Dam and listening to the rushing water. When she walked through the different sections of The Garden, she felt as though she was being transferred from one world into another.
"It was just a wonderful and enjoyable place to go growing up. It was both educational and safe," said Harriette. "It's my favorite place in all the world because I've been here many times. I've been a member as long as I can remember."
Harriette was introduced to native plants when she would go hiking with her family and friends. Her natural curiosity helped her learn how to identify them in their natural habitat. She specifically kept an eye out for her favorites like yucca and sticky monkey-flower. When back at The Garden, she would frequently visit the nursery to shop for native plants and vividly remembers searching for sage so she could pinch it between her fingers and smell its fragrance.
"I love to visit in spring, but it's necessary to come every season so you can see the changes in the plants. That's what I like. Yeah, I like that a lot," Harriette said. "The different seasons and the changes in the plants are very exciting."
Throughout her time in The Garden, Harriette has made many friends along the way, including Stephanie Ranes, The Garden's ground manager, who has also enjoyed getting to know Harriette over the years and finds time to sit with her in her yard (which is on The Garden grounds) pointing out birds together.
"You can see almost every kind of bird in Stephanie's yard – eventually," Harriette said. "Big ones, little ones. It's wonderful. She has birdbaths that are all tailored to each kind of bird, because some birds like two inches of water, some like deeper water. It's very interesting."
Now, Harriette gets to share her love of The Garden with her great-grandchildren. After growing up visiting The Garden with her grandmother, Harriette's granddaughter is well acquainted with the environmental groups in Santa Barbara and enjoys sharing what she's learned with Harriette. Her granddaughter, Amber, has brought her son Jackson, age 5, to The Garden on a few occasions. Harriette enjoys watching Jackson experience the magic of The Garden as he explores the same dirt paths she did at his age. Amber, who joined us for this interview, shared how Jackson's favorite thing to do at The Garden is chasing butterflies. She recalls how her grandmother finds unique gifts for Jackson in The Garden gift shop and recently gifted him a beautiful book on butterflies which is one of his favorites.
"I remember my favorite place being the redwoods," Amber shared. "I just loved the hidden little pathways and feeling like it was a magical place." Although The Garden has changed through the years, when Harriette visits, it's like coming home. Much like when she was a child, Harriette's favorite thing about The Garden today is the freeing ability to get lost in nature. She loves to wander around the bend on the right side of the meadow to find interesting and unique plants. Of course, she still loves to take the steep path down to the canyon where she welcomes that familiar feeling of being in the middle of nowhere.
"It's a heritage that we need to keep forever to let people know what native flowers grow in California and see them all together in a natural setting," Harriette said. "It's here you can breathe in the scenic beauty, relax and enjoy and forget the woes of life."
Explore Insights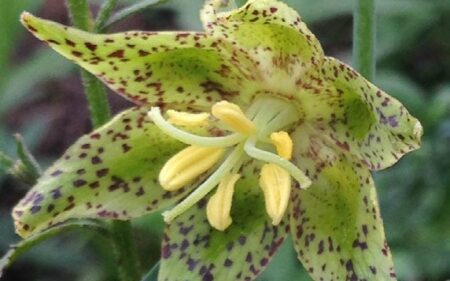 •
Botany, Conservation & Research
•
Conservation & Research, Gardening with Native Plants