Depth of Field: Botanical Photography Through the Low-key Lens
By Hannah Barton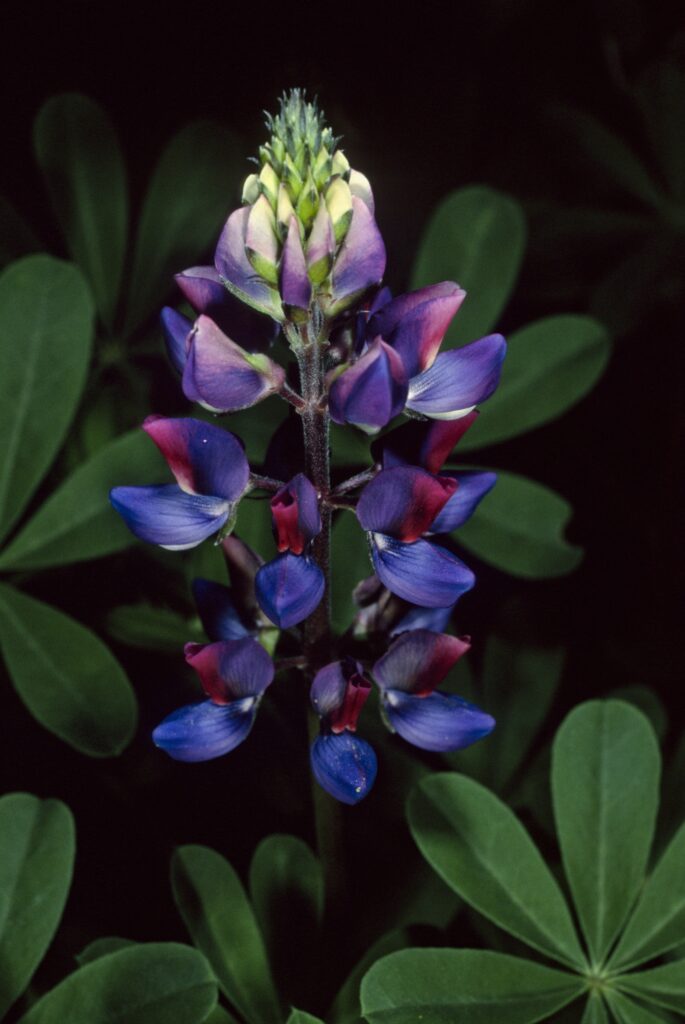 The practice of botanical photography can take many forms. Whether captured out in the field in broad daylight or in a studio under artificial light, the aim is to provide a realistic representation of the plant in its truest form, to best highlight its unique and identifying characteristics.
The photographs featured in Depth of Field: Botanical Photography Through the Low-key Lens play with the concept of "realistic" in relation to living plants. Where we may see these photos and assume a studio setup, a black backdrop, or a photographer's attempt to capture a dramatic nighttime botanical scene, a closer look will reveal that we've been tricked.
In reality, these photographs were taken outside, often in the field, in broad daylight. How could this be so? The technique applied here is referred to as "low-key" photography, a genre which emphasizes only the subject of the photograph by manipulating the light source, in this case a very bright flash.
By utilizing this technique, the photographers exhibited in this exhibit blur the boundaries between science and art by demonstrating creative agency in their distinctive and often uncanny compositions, while also preserving scientific practicality by obscuring any distracting background noise and showcasing the plant in isolation.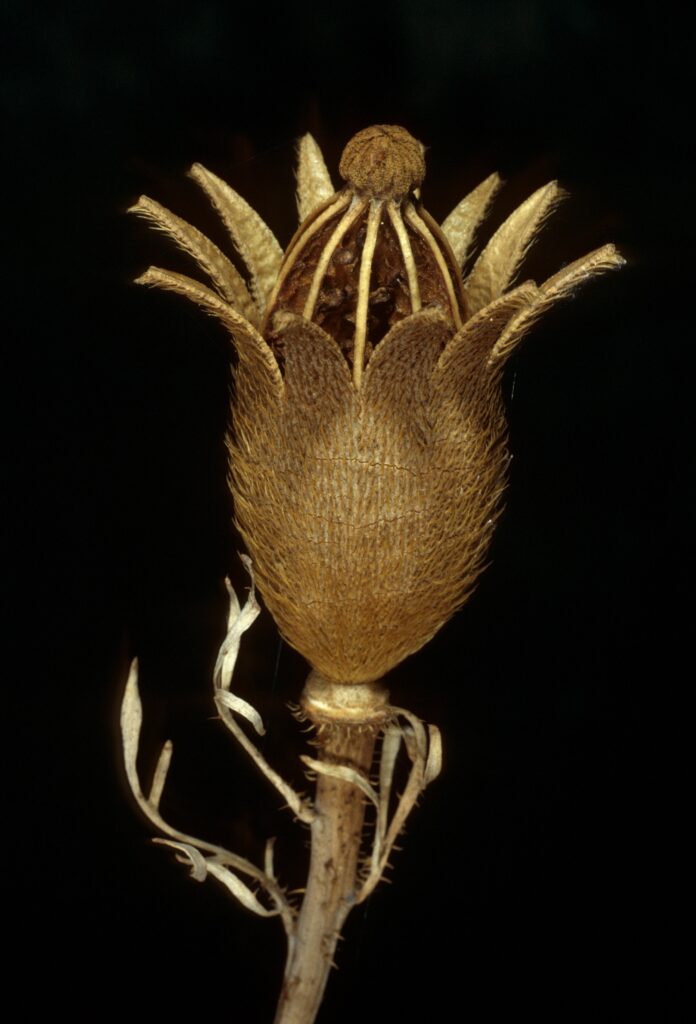 Hairy matilija poppy (Romneya trichocalyx)
Steve Junak | Cuyama overlook, Highway 33, north side of Pine
Mountain, 1980
Carmel creeper ceanothus (Ceanothus thyrsiflorus var. griseus)
Donald Myrick | Santa Barbara Botanic Garden, 1962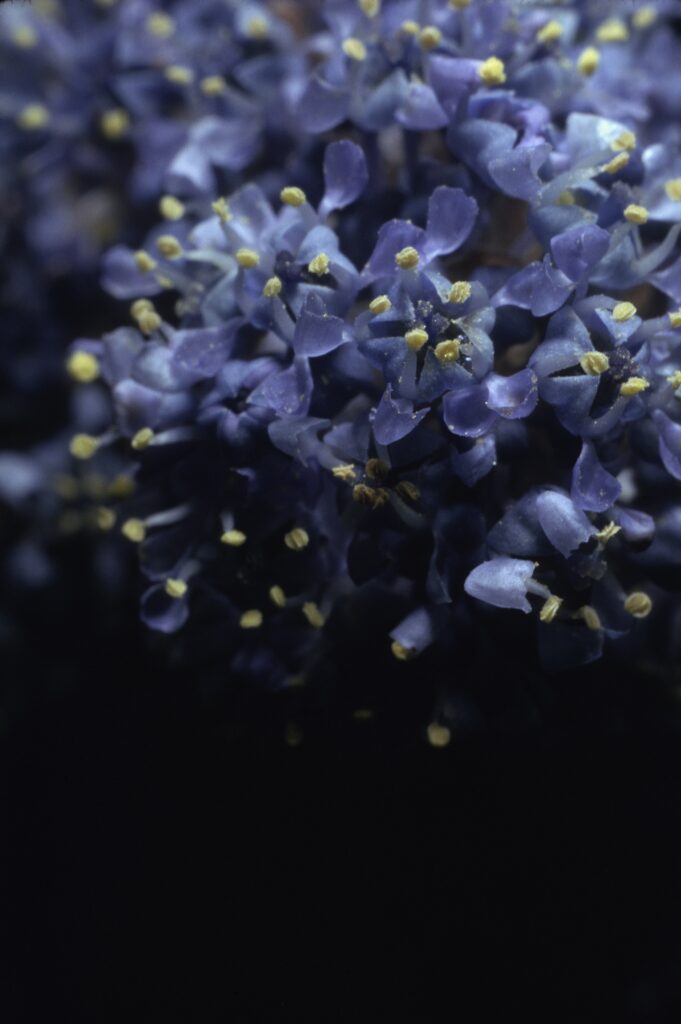 The Garden's Archive
All of these photographs are selected from the Garden's Archives and illustrate different approaches to the low-key aesthetic from the 1940s to the present.
The Garden's archive houses hundreds of images that employ this aesthetic, and span a wide range of photographer scientists, from the amateur to the professional. While the aim in using the low-key photographic technique is often the same, to capture a plant subject free from any distracting surroundings, these photographers seem to balk at the rigidity of straight scientific documentation and give in to human subjectivity and artistic agency.
When looking through these images, there is no denying that a certain cultivated and imaginative eye has been taken to these dark and dramatic compositions, and that each photographer has a distinct documentation style, both through their manipulation of light and original compositions.
Some of the earliest low-key photos from our archive are those by Reid Moran, who began his botany career at the Santa Barbara Botanic Garden in 1947. Moran later went on to serve as the curator of botany at the San Diego Natural History Museum and was an expert on liveforevers (Dudleya), fitting that one of the most stunning images in our collection of his photography would be the Lanceleaf liveforever (Dudleya lanceolata), photographed at the bluff at the mouth of San Roque Creek in Santa Barbara in May of 1947.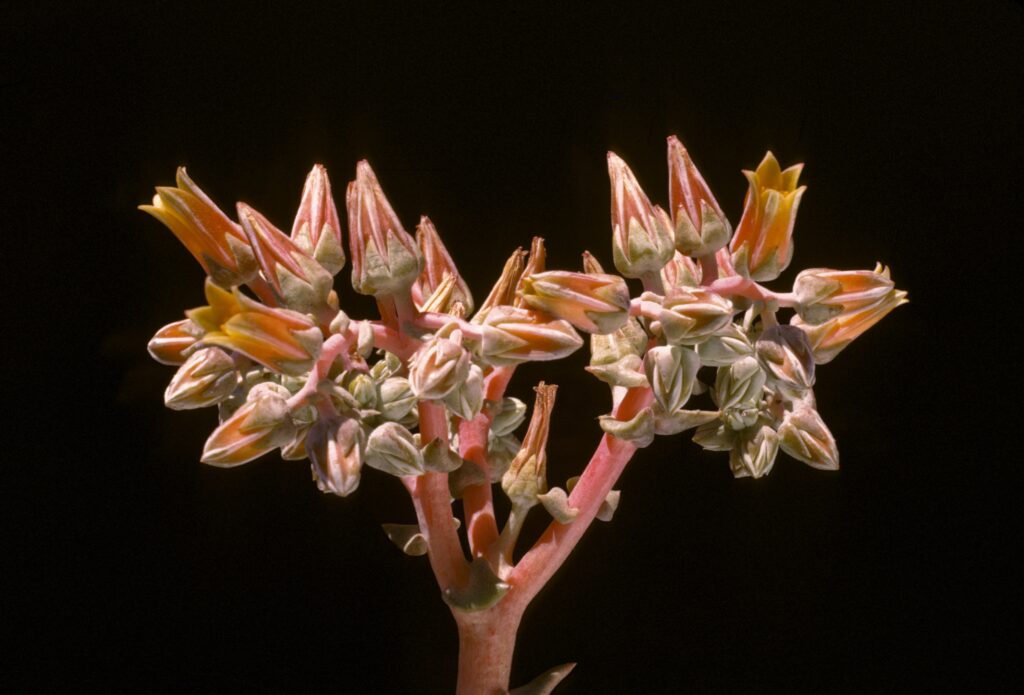 This dudleya, like many low-key photographs shown here, is set against such a stark black background that without further investigation or knowledge about this photographic technique, it could almost certainly be mistaken for studio photography.
The soft light from above, the uncanny composition, and the dark, imperceptible background together make for a spectacle that almost borders on fine art photography and draws comparison to the likes of Edward Weston and Imogen Cunningham.
Betty Randall Potts, another featured photographer from our collection, has a similar eye for light and composition as displayed in her Purple fairy lantern (Calochortus amoenus) from 1970, taken at the Strybing Arboretum (now known as San Francisco Botanic Garden)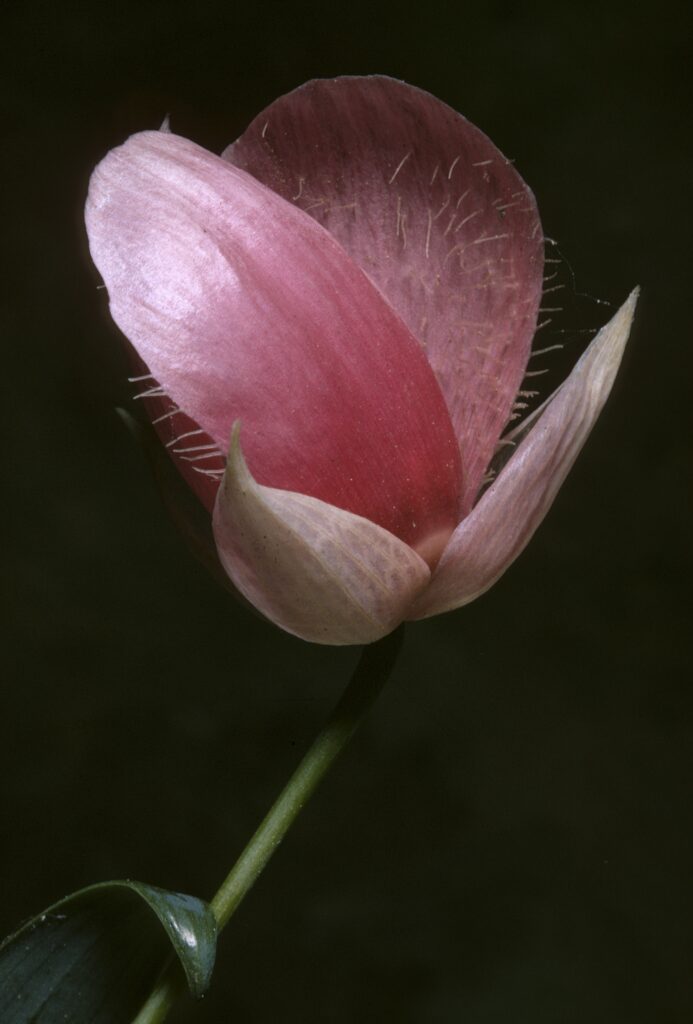 While these images are part of the botanical photography canon and were most likely created for the purpose of documenting and identifying plants, they are simultaneously divorced from this purely scientific medium because of their uncanny aesthetic. Employing a very heavy flash to only expose the plant subject and remove it from its surroundings makes the plants themselves feel very unnatural, almost otherworldly, in some cases.
In addition to isolating the plant from its surroundings and eliminate any distractions, botanists would employ the low-key technique in order to avoid disturbing the plant or removing it from its natural habitat.
Dorothy King Young, especially, had a knack for capturing her subjects from unconventional perspectives, creating humorous or hauntingly beautiful compositions.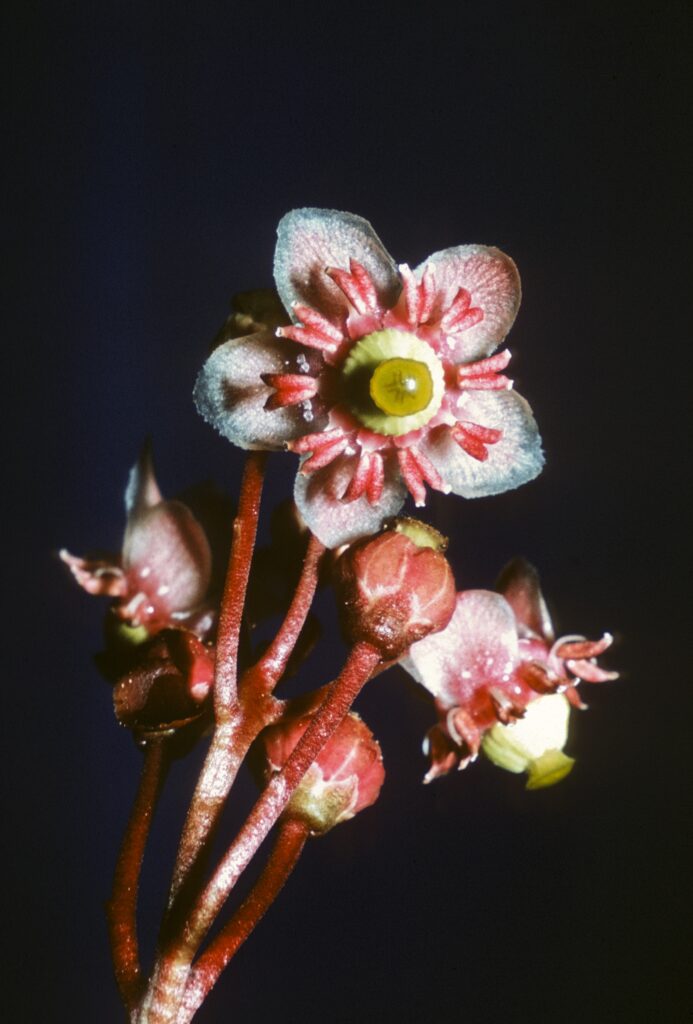 A Conversation with Steve Junak: Herbarium Curator and Botanist Emeritus
Steve Junak, the former curator of the Clifton Smith Herbarium and a current research associate and botanist emeritus at the Garden, has spent thousands of hours throughout his career researching plants out in the field. While part of his research has involved collecting specimens for the Garden's Herbarium, Junak also recognizes the importance of documenting plants and their locations without removing them from the wild.
Junak started capturing images in the low-key style around 1980. To generate his low-key images, he utilized a dual flash mounted on a macro bracket, which, in the 1980s and '90s, was especially cumbersome equipment to be hauling out into the field. In his forthcoming Garden-produced Oral History, Junak explained his process:
Randy Wright: What kind of challenges did you have in doing photography in the field?

Steve Junak: Oh, you know all about those kinds of challenges such as trying to take shots on a windy day. You have to increase the shutter speed because you've got the flash associated, or you have to increase the stability of your subject plants.

R. Wright: Oh yeah. I may be incorrect in this, but I noticed that several of the pictures, particularly the closeups, seemed to be taken at night. Is that because the wind is less at night, and you had the flashes?

S. Junak: No, that is just a function of using the flashes. I always tended to underexpose things so that the background would kind of fade off and really try to focus on the plant . . . I did not want to see the hotspots on the images, so I was always trying to get more color saturation and get the subject plant to be easily visible in terms of its background and also to enrich the colors.

R. Wright: So your flashes were powerful enough that you were able to somewhat overpower the ambient light then?

S. Junak: Yeah. If you're in a shady spot, with the double flash you can pretty much have that dark background, which I really like. I love the contrast between the subject and the background. But now I pretty much take images with my cell phone, I'm not even using a camera anymore.

R. Wright: Tired of carrying that stuff around, huh?

S. Junak: Oh, yeah. It was definitely hard to haul all that stuff around in the field, fragile cameras.

R. Wright: Right, the cameras weren't that light.

S. Junak: Certainly. Bob Haller had an influence on me — seeing his beautiful photographs. That's why I had an Olympus camera because Bob was using an Olympus camera. Mary Hochberg was also very interested in photography, and she and I would spend a lot of time taking photographs together. Another motivation for taking a lot of those photographs was for giving lectures and for introducing people to places where we were going. It was a way to introduce them to the plants that we would see in the field by showing them a slide show ahead of time. We didn't have sbbgphotos.org at the time. We did have a slide collection, but a lot of the slides were not of good quality. I found that I needed to take a lot of my own pictures to document things that I wanted to talk about in those slideshows.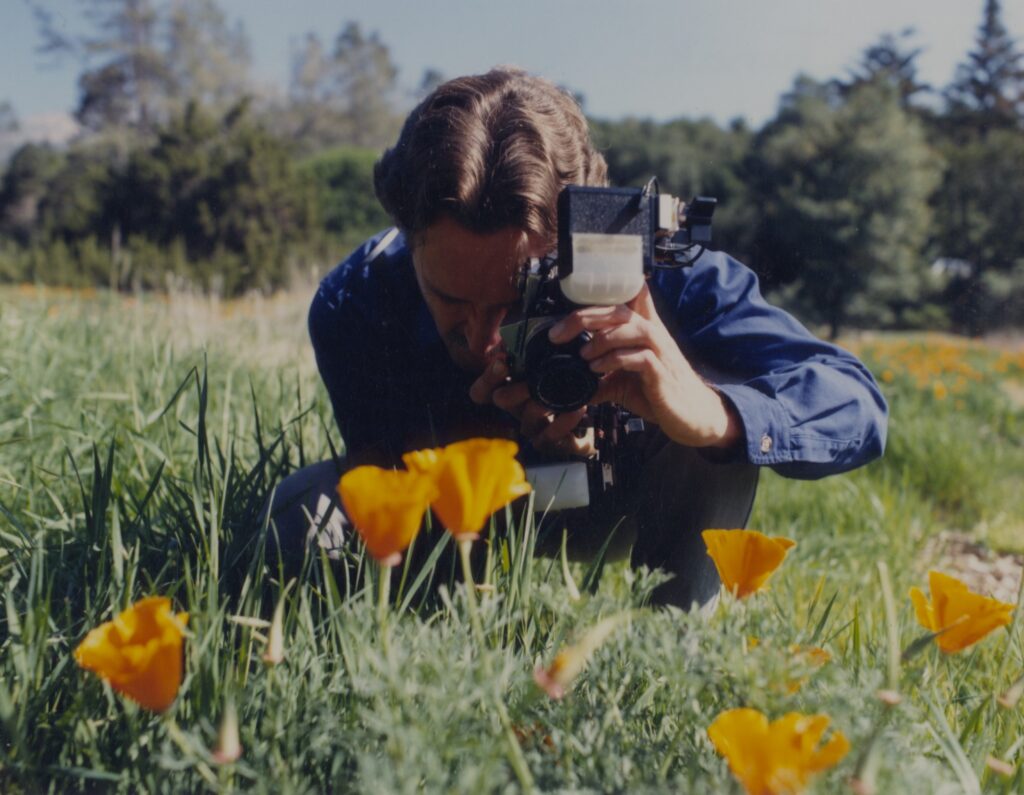 To date, Junak has contributed over 12,000 images to the Garden's Archive, several hundred of which are in the low-key aesthetic. He mostly stopped taking botanical photos this way in the early 2000s, as the equipment became too cumbersome to haul around, but since that time, flash technology has developed to allow for more wide-spread access to this aesthetic, should the photographer choose it.
The photographers displayed here demonstrate that there is room for creativity in the field of botany. Plants are fleeting subjects and require some amount of cleverness and ingenuity in capturing their forms and details.
While these images may not be what one might consider conventional in the world of botanical photography, their dark, dramatic, and uncanny compositions add to their alluring and awe-inspiring nature, and ultimately still invite the viewer to investigate these plant subjects with an open mind.
This exhibit is showing now through December 9, come see it by making a reservation today.
Explore Insights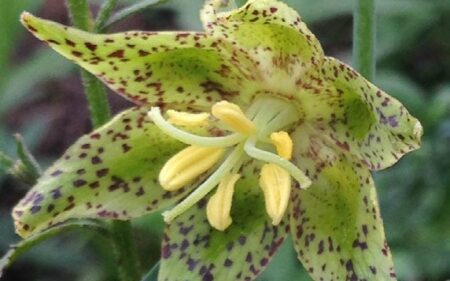 •
Botany, Conservation & Research
•
Conservation & Research, Gardening with Native Plants