Seven Questions with Horticultural Educator Alejandro Lemus
By Kaylee Tu
It doesn't take you long to realize we're lucky to have Alejandro Lemus join our team here at Santa Barbara Botanic Garden. Just moving into his role as horticultural educator earlier this summer, Alejandro is responsible for leading our horticulture education program here at the Garden – from beginner to seasoned pro.
His first goal is a big one! Early next year (February 2024), he will launch a native plant certification program on the central coast for professional landscapers in partnership with the California Native Plant Society and his former employer, Theodore Payne Foundation. You can learn more about this 19-hour course here.
Join us in this episode of "Seven Questions" as we walk with Alejandro to learn more about him and his work in helping our community refine their green thumbs so we can all better care for native plants – the foundation of all life on Earth.
You've been the garden's horticultural educator for a couple of months. Would you mind sharing your background?
[Alejandro] Of course! Yeah, so I actually started working with my parents in the landscaping business from a very young age. Some of my earliest memories are touching plants, getting dirty, jumping in leaf litter, and looking for insects. I've been obsessed with plants ever since.
Myth or not, Green thumbs, do you believe anyone has the ability to garden?
[Alejandro] That is not a myth. I do believe everyone has the ability to garden. I like to say you're not a gardener if you haven't killed a plant – or a dozen.
What's one thing you wish people knew about the garden?
[Alejandro] One thing I wish people knew about the Garden is that while it is a beautiful place to visit and become inspired by these landscapes – like our meadow and the redwood grove – I want people to feel empowered to plant these plants in their yards. I want them to know there are native plants suitable for their front yards, their containers, or whatever environment they're living in, and (these plants) can also create habitat.
For someone who says they're an introvert, why do you think you are so excited and love teaching a group of people?
[Alejandro] Yeah, so I mean, I am on the quiet side, but I have a lot to say when it comes to plants. I just love it when people gather and the space becomes a venue for sharing knowledge, their own wisdom, and their own experiences. I really do appreciate when a class can take on that nature. So I like to say I'm an introvert, but I won't shut up about plants ever.
What is your favorite plant and why?
[Alejandro] My favorite plant is actually right here. The California bay laurel or Umbellularia californica. I just love crushing the leaves and smelling them and just getting a brain freeze. It's such a nice smell.
If someone wants to take the first step to gardening with native plants, how do they get started?
[Alejandro] Yeah, so we have a whole slew of horticulture classes that are taught by me and other horticulture staff here at the Garden. If you're looking to get an introduction class to native plants, you're looking to learn more about irrigation, or even pruning, there's something for everyone to check out on our calendar.
We know a lot about how native plant gardens benefit the environment, but what about their effects on our health? What's your favorite part about gardening?
[Alejandro] Ooo, My favorite part about gardening is just the feeling of putting a new plant in the ground, watering it, caring for it, and watching it grow throughout the seasons. I just love that it feels like you're nurturing something to life.
Well, thank you so much, Alejandro, for answering seven questions with the garden.
[Alejandro] Yeah, of course. Thank you and I appreciate all the support we've received to make education programs possible here at the Garden. This ensures the garden can continue to be a public resource.
Explore Insights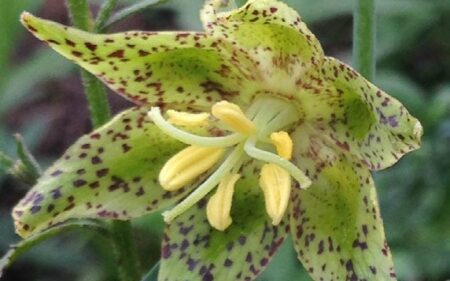 •
Botany, Conservation & Research
•
Conservation & Research, Gardening with Native Plants