Interlopings: Colors in the Warp and Weft of Ecological Entanglements
By SBBG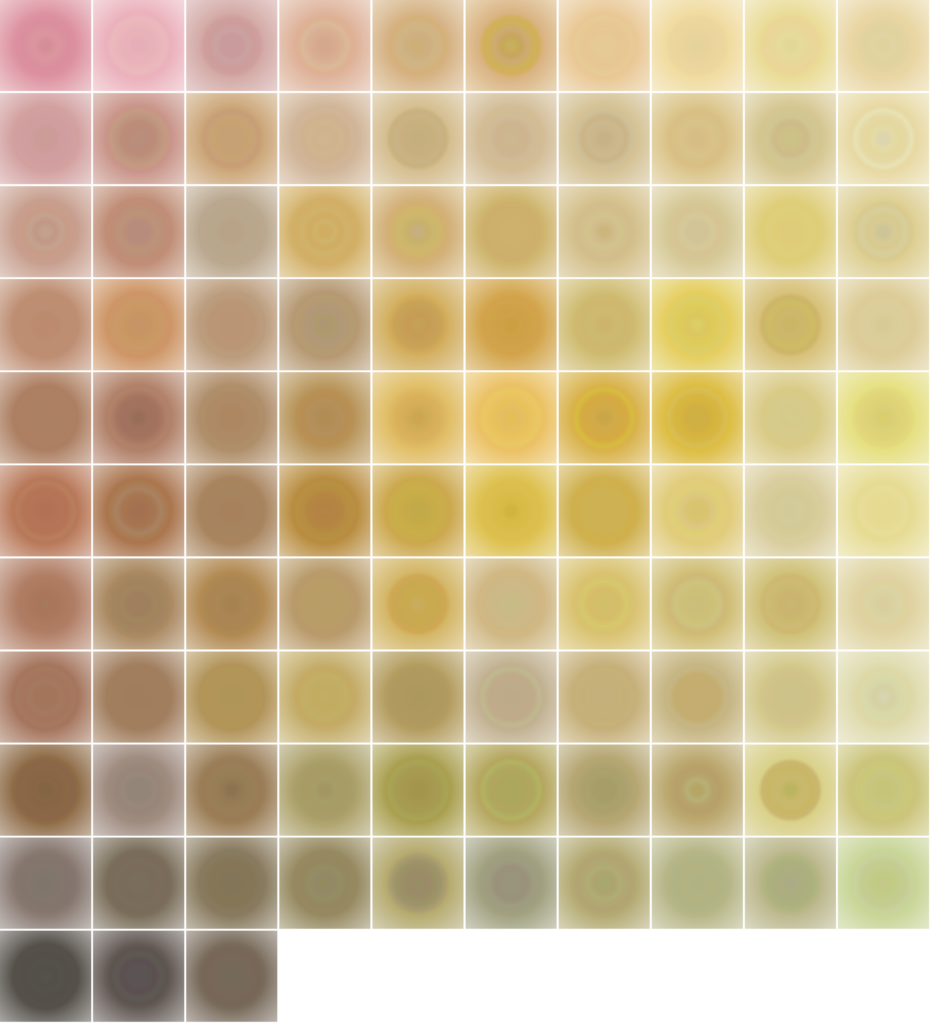 Weavings Dyed With Pigments from Non-Native Plants from Santa Cruz Island Juxtaposed with Data Visualizations of Colors
New Exhibit by Artists Helén Svensson and UCSB Faculty Member Lisa Jevbratt Explores Relationships Between Humans, Plants, and Color at Santa Barbara Botanic Garden's Pritzlaff Conservation Center Gallery from December 11 through March 12
Santa Barbara, Calif. – December 7, 2022 – Helén Svensson and Lisa Jevbratt gathered a variety of non-native plants growing on Santa Cruz Island, extracted natural dyes that were used on yarn and wool which were later woven into scarves. Those scarves, along with data visualizations that showcase their colors, are on view in a new exhibition "Interlopings: Colors in the Warp and Weft of Ecological Entanglements" at Santa Barbara Botanic Garden's Pritzlaff Conservation Center Gallery from Sunday, December 11, 2022 through Sunday, March 12, 2023.
Meet the Artists on Saturday, December 10
A Meet the Artists event with Svensson and Jevbratt takes place in the Gallery on Saturday, December 10 from 2 to 4 p.m. The event is free, but space is limited and reservations are required. Register at https://sbbotanicgarden.org/classes-events/meet-the-artists-helen-svensson-and-lisa-jevbratt/. Guests are requested to park in the staff parking lot on the east side of Mission Canyon Road, near the Pritzlaff Conservation Center.
The public can learn how to safely harvest and process non-native plants for their own use as dyes at a Dye Demonstration held on Saturday, March 4, 2023, from 9 a.m. to noon. Registration will open through the Garden's website calendar after the new year.
About the Exhibit
"Interlopings" is a process-based collaborative art project which combines traditional techniques (dyeing, spinning, and weaving) with data visualization. It is site-specific, with the dyes used all coming from non-native plants that have been introduced to Santa Cruz Island over the years.
"We are investigating the complex and intertwined influence humans have on our ecosystems, and the aesthetic, emotional, magical, and medicinal interrelationships between humans, plants and color," said Svensson.
The dyes for the weavings were extracted from fennel (Foeniculum vulgare), sea fig (Carpobrotus chilensis, blue gum (Eucalyptus globulus), olive (Olea europaea), and other non-nature plant species. Also included is a dye produced from insect that lives on a non-native plant – cochineal (Dactylopius coccus) which lives on prickly pear cactus (Opuntia ficus-indica cactus) – and used to produce carmine, a reddish dye that has been valued throughout the centuries.
The sheep that produced the weavings' wool and yarns have a historical connection to Santa Cruz Island. The breed now called Santa Cruz Island Sheep were believed to have been brought to the island in the mid-19th century for wool and meat production. Eventually becoming feral, they caused so much damage to the landscape that they were removed from the island.
"Santa Cruz Island is undergoing an intensive ecological restoration process. The project explores perceptions of 'invasive species' and aims to complicate questions regarding who and what belongs on that island and by extension on any island, real or imagined," added Svensson.
Enlargements of data visualizations come from a database of natural dye colors created by the artists as part of this project. Various methods are used for visualizing and organizing that data, and include a wide range of systematics, from scientific to alchemical.
"The Garden's gallery, with the view of Santa Cruz Island where this work began with the removal of invasive species, is the perfect place to showcase the final products," added Kevin Spracher, the Garden's Interpretation and Exhibitions Curator.
The Gallery hallway now features photographs of specimens from the Garden's Clifton Smith Herbarium, a collection of more than two thousand preserved plants collected over nearly one hundred years. The specimens are stored in fireproof, underground rooms below the Gallery.
The Gallery, located on the ground floor of Pritzlaff Conservation Center, is a space to bring people together to celebrate art, science, and native plants. It is open during regular Garden hours, and entry is free with Garden admission. Advance reservations are required for non-Garden Members and can be made at www.sbbotanicgarden.org/visit.
About the Artists
Swedish artist Helén Svensson has been active since the late 1990s. She holds a Master of Fine Arts degree from The Royal Institute of Art in Stockholm, Sweden. Svensson´s work is based on her own premises and rules. It is a methodical inquiring process consisting of a slow movement in a given direction. With form and sign she visualizes our basic need to control, organize and manipulate our surroundings. The repetitive doing is the method, and the movement in the process is meant to be reflected in the form, ultimately an attempt to add traces in the work. She often starts from the visual, and the choice of material is determined by the expression of each work. They can be individual works as well as parts in a larger context. Examples of her work can be seen at www.helensvensson.se.
Lisa Jevbratt, an interdisciplinary artist and professor of art at University of California, Santa Barbara, has had her work exhibited internationally at the New Museum (New York), the Swedish National Public Art Council (Stockholm, Sweden) and the Whitney Museum of American Art (New York), among others. Concerned with systems – natural and man-made – Jevbratt's work is making visible the forces, assumptions and contradictions acting within them. She works in a wide range of mediums, from computer programming and 3D printing to natural dyeing, spinning and weaving. The projects often juxtapose and amalgamate scientific epistemological approaches with alternative ways of knowing. With her software, apps, tools and participatory events she is inviting the audience to make discoveries together. Visit www.jevbratt.com.