Dramatic Photos Using Specialized Lighting Technique in New Exhibit "Depth of Field: Botanical Photography Through the Low-key Lens" Now at Santa Barbara Botanic Garden Gallery
By SBBG
Created to Document California Native Plants, 41 Archival Images Spanning Fifty Years Reveal an Artistic Aesthetic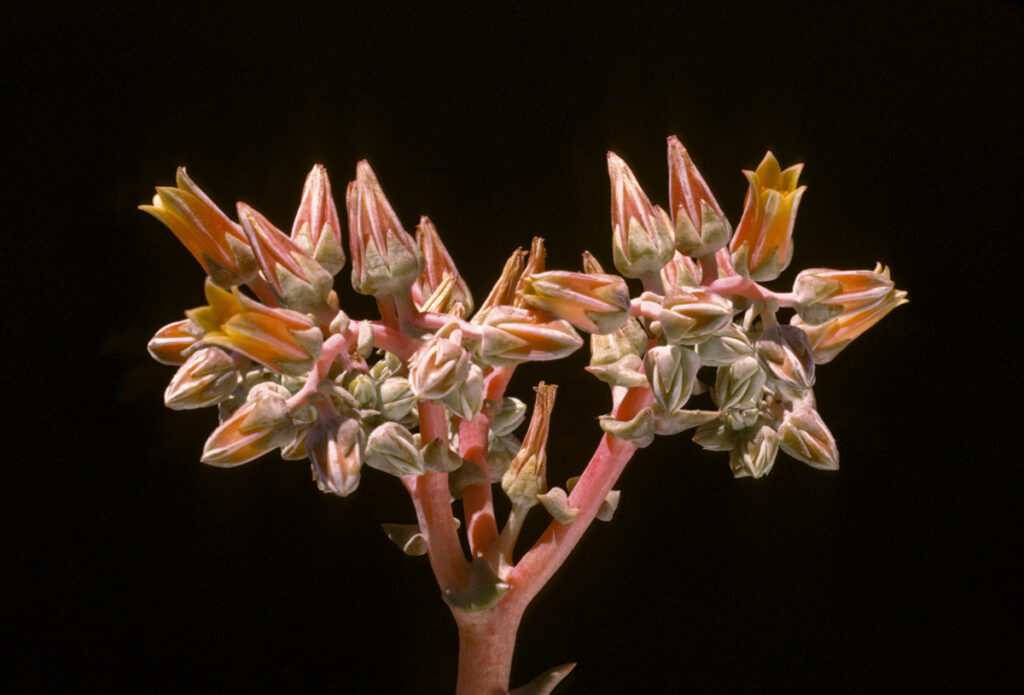 Santa Barbara, Calif. – October 12, 2023 –
Though originally taken for scientific purposes, the images of California native plants in a new exhibit at the Santa Barbara Botanic Garden's Gallery were photographed using a specialized technique that created dramatic portraits against a black background. "Depth of Field: Botanical Photography Through the Low-key Lens" features images taken over a period of fifty years by eight photographers using the "low-key" technique to document species in the field. The 41 giclee prints were made from color slides chosen among the thousands stored in the Garden's archives, and reveal an artistic aesthetic in composition, contrast, and detail.
"Depth of Field" is on view in the Garden's Pritzlaff Conservation Center Gallery daily from 10 a.m. to 5 p.m. through December 9, 2023, and is free with Garden admission. Reservations are required and can be made by visiting www.sbbotanicgarden.org/visit/hours-reservations.
"Despite the scientific nature of the photos, they demonstrate the photographer's creative agency in their distinctive and often uncanny composition," says Garden Archivist Hannah Barton, who co-curated the exhibit with Interpretation and Exhibitions Curator Kevin Spracher. "The resulting images remind us to ask, what motivates the photographer, scientist, and artist in the first place? These perspectives mark an invitation into the striking beauty of California's flora."
"Fall is beautiful at the Garden when cooler temperatures trigger activity in plants and transform the Garden into a feast for the eyes," said Keith Nevison, the Garden's director of horticulture and operations. "Many plants only flower at this time of year, making for spectacular bursts of color. Some of my favorite fall plants are Purple Asters, Yellow Goldenrod, and California Fuchsia. The Garden is a must-see Fall destination."
About Low-Key Photography
The "low-key" technique combines an underexposed photo with a bright light, in this case a flash, to illuminate the close-up plant while the background remains dark. The technique is still used by photographers today, but digital cameras and sophisticated photo apps have generally replaced slide film and traditional photo developing methods.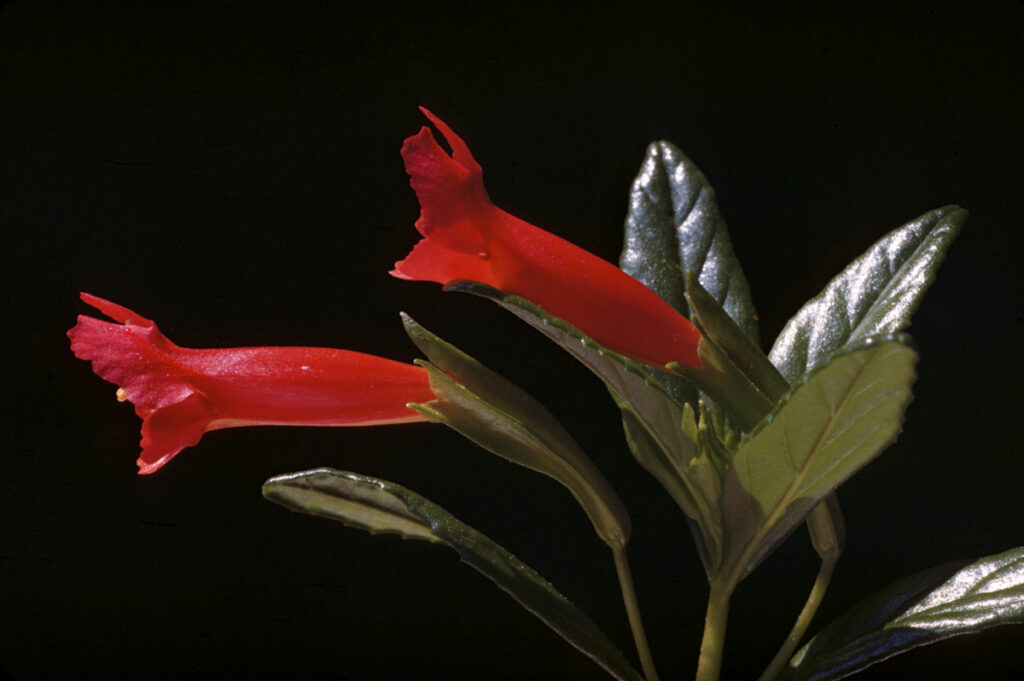 Photographs Taken by Garden Staff Members, Board Members, and Volunteers
The 41 photographs were selected from thousands of previously digitized color slides. They span 1947 to 2000 and feature works taken by eight individuals associated with the Garden, including staff, board members, and volunteers.
Lyda Edge was an amateur botanist and exceptional photographer who volunteered at the Garden from 1969 to 1979. She generously gifted hundreds of botanical photographs to the archive, as well as many mounted plant specimens from Santa Barbara and neighboring regions, which were given to the archive. Five of her images are in the exhibit include species from Mendocino, Los Angles, and Santa Barbara counties.
J. R. "Bob" Haller, Ph.D., (1930–2016) taught at University of California, Santa Barbara (UCSB) for more than 35 years. After his retirement in 1994, he came to the Garden as an education botanist and was with the Garden for 22 years. Haller was also an avid photographer who left a sizable gift of photography to the Garden's Archive, including the four images in this show. Dieter Wilken and Steve Junak, also featured in this exhibition, were both students of Haller's at UCSB.
Steve Junak served as a botanical instructor and then as curator of the Clifton Smith Herbarium in his 37-year career at the Garden. He is botanist emeritus and a current research associate. An expert on the flora of the Islands of the Californias, he continues to lead Garden field trips to the Channel Islands. To date, he has contributed over 12,000 images to the Garden's Archive. Of the several hundred taken using the low-key aesthetic, six images of California native plants are on view in this show, plus four images in a special section featuring plants and insects.
Reid Moran, Ph.D., (1916–2010) began his career at the Garden in 1947 as a staff botanist and later served as the curator of botany at the San Diego Natural History Museum. An expert on liveforevers (Dudleya) and the flora of Baja California and its islands, his book "The Flora of Guadalupe Island, Mexico" was published in 1996. An image of Lanceleaf liveforever (Ddleya lanceolata) taken in 1947 at San Roque Creek, is among his four images in the show.
Donald Myrick (1893–1972) served on Garden's Board of Trustees from 1956 to 1972. He was a dedicated nature photographer who was especially drawn to wildflowers and enjoyed sharing his work in vibrantly illustrated slide lectures held at the Garden. Among his many gifts to the Garden, he left an extensive collection of color slides to the archive, of which four are on view in this show.
Betty Randall Potts was an enthusiastic wildlife photographer and a member of the Garden in the 1990s. She was recognized as a member of several camera clubs in Northern California and listed as an exhibitor alongside the likes of Imogen Cunningham and Dorothea Lange. The three works by Potts in the exhibit include White Bear Poppy (Arctomecon merriami) taken in Death Valley National Park.
Dieter H. Wilken, Ph.D., retired as director of research and conservation in 2013 after 20 years of service at the Garden, and still is involved as a research associate in the Garden's Clifton Smith Herbarium. While on staff, he took thousands of photographs on the grounds and in the field, contributing greatly to the Garden's archive of botanical images. Six images by Wilken are in this show.
Dorothy King Young (1904–1999) was a well-known wildflower enthusiast and author ("Redwood Empire Wildflowers"), and a founding member of the California Native Plant Society – their Mendocino chapter is named in her honor. A selection of her works came to the Garden Archives as part of a collection donated by Donald Myrick, who is also featured in this show. The five images include the humorous "family" of Ghost-pipe (Monotropa uniflora) from 1967.
How to Make Garden Reservations
Advance reservations for Garden admission are required for non-members and recommended for Garden members. Each reservation ensures entry and includes parking for one vehicle. Carpooling is advised. Garden hours are 10 a.m. to 5 p.m. with the last reservation at 4 p.m. Reservations are available by specific date and time at www.sbbotanicgarden.org/visit/hours-reservations.
###