Celebrating Recovery on the Islands of the Californias
By SBBG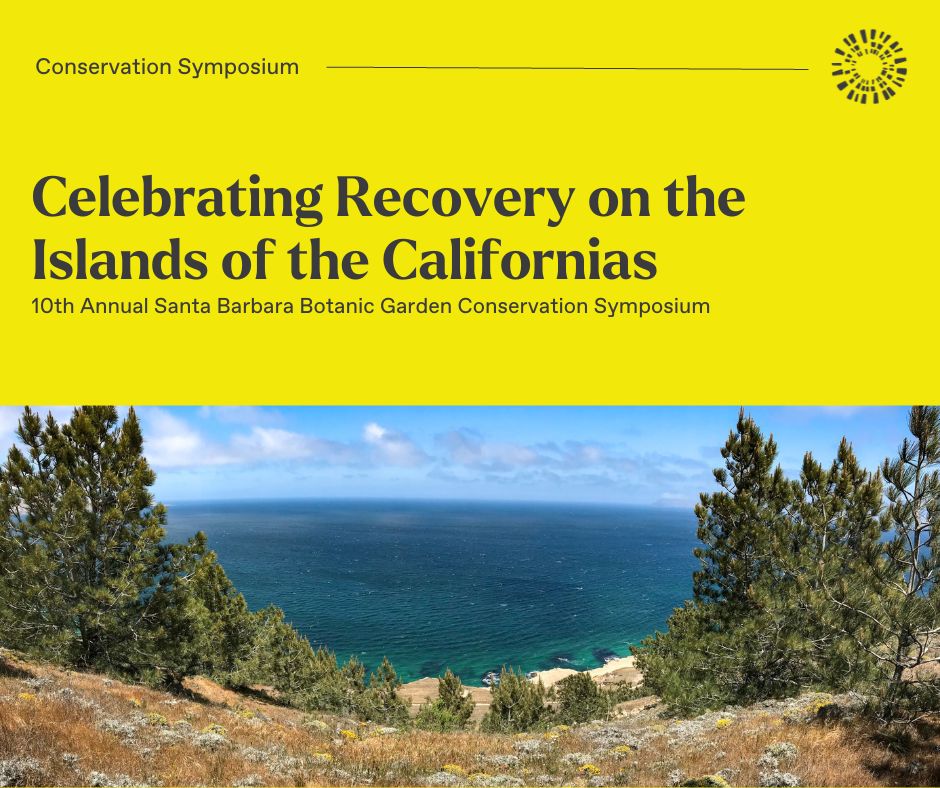 10th Annual Symposium on Saturday, February 25 Explores Ecological Efforts that Have Led to Recovery of Islands' Unique Flora and Fauna
Conservation Heroes Honored with Awards; Experts Address Past and Current Projects for Habitat Restoration on the Channel Islands; Held both In-Person and Virtually
Santa Barbara, Calif. – January 17, 2023 – The public is invited to join conservation experts in a day-long exploration of successful ecological recovery efforts on California's Channel Islands at Santa Barbara Botanic Garden's 10th Annual Symposium, "Celebrating Recovery on the Islands of the Californias." Three conservation "heroes" are honored, speakers from conservation organizations and agencies recount programs spanning decades and current activities, and the day culminates in a panel discussion with the experts about the future actions to support the recovery of the Islands' unique flora and fauna.
The Symposium is held Saturday, February 25 from 10 a.m. to 4:45 p.m. at the Santa Barbara County Education Office at 4400 Cathedral Oaks Road in Santa Barbara. Advance registration is required, and admission is $30 for the public, $25 for Garden Members, and $15 for students with a valid ID. Lunch and snacks are included. It is also available to view online for free. Register at https://sbbotanicgarden.org/classes-events/10th-annual-conservation-symposium.
Stunningly beautiful and home to unique plants and animals found nowhere else in the world,
the islands of the Californias faced ecological disaster due to the introduction of nonnative, invasive animals between 150 and 100 years ago. Populations of sheep, goats, deer, rats, cats, and even ants reached unsustainable levels.
"Fortunately, indomitable conservationists stepped in across the archipelago — from both federal agencies and nongovernmental organizations — to do the near impossible job of removing these invaders," said the Garden's Director of Conservation, Denise Knapp, Ph.D. "Against steep logistical, legal, and political headwinds, these conservation heroes stayed firm in their knowledge that the islands couldn't recover without this crucial action. And they made it happen."
Conservation "Heroes" Receive Garden's Pritzlaff Award
Three of the many heroes who have led efforts on the Channel Islands are honored with the Garden's Pritzlaff Conservation Award, which is presented annually to recognize conservation
achievements in California and around the world. Each winner gives a keynote address at the beginning of the symposium.
Kate Faulkner, former Chief of the Natural Resources Division for Channel Islands National Park (1990 to 2016), led complex eradication efforts for six invasive animal taxa on three islands, including the removal of black rats on Anacapa Island while protecting the endemic Anacapa subspecies of Island Deer Mouse.
Peter Schuyler led sheep eradication and cattle removal as Santa Cruz Island Preserve Director for The Nature Conservancy from 1980 to 1989, and achieved goat and pig eradication as Director of Ecological Restoration at the Catalina Island Conservancy from 1997 to 2004. He is also a dedicated volunteer for local environmental organizations and philanthropist.
Over 20 years, Grupo de Ecología y Conservación de Islas (GECI) in Baja California has removed 60 populations of invasive mammals of 11 species on 39 Mexican islands. Accepting the award and speaking are General Director Federico Alfonso Méndez Sánchez, Ph.D., and Luciana Luna-Mendoza, Ph.D., the Director of Ecology.
Speakers Presenting at the Symposium
Experts presenting at the Symposium represent a variety of conservation organizations and government agencies including The Nature Conservancy, Catalina Island Conservancy, Channel Islands National Park, U.S. Navy, U.S. Geological Survey, and Santa Barbara Botanic Garden. All speakers also participate in the panel discussion that concludes the Symposium.
Kathryn McEachern, Ph.D. – Research Plant Ecologist for the U.S. Geological Survey at the Channel Islands Field Station
McEachern recounts three decades of work to understand and recover rare plants in the Park, and more recent efforts to restore island oaks and ecosystems.
Heather Schneider, Ph.D. – lead Rare Plant Biologist at the Santa Barbara Botanic Garden
Schneider speaks about the conservation gains achieved over the past four years through a major collaborative project to recover 14 rare plant species on 7 of the 8 Channel Islands.
John Knapp – Senior Island Scientist for The Nature Conservancy; founder of the Catalina Island Conservancy's Catalina Habitat Improvement and Restoration Program (CHIRP)
Knapp details his landscape-level approach to invasive plant eradication on Catalina and Santa Cruz Islands, and both ant eradication and rare plant recovery efforts on Santa Cruz Island.
Kim O'Connor – Conservation Program Manager for the U.S. Navy's Pacific Fleet; Botany Program Manager on San Clemente Island
O'Connor recounts San Clemente Island's natural recovery after the removal of feral goats, and the rare plant recovery and habitat restoration now leading to de-listing of four endangered plants.
Bill Hoyer – Natural Resources Manager on San Nicolas Island for the U.S. Navy
Hoyer discusses highly collaborative feral cat removal efforts on San Nicolas island, subsequent recovery and delisting of the rare island night lizard, and current habitat restoration efforts.
Scott Morrison, Ph.D. – Director of Conservation Programs and Science for the California Chapter of The Nature Conservancy
Morrison describes the recovery of the Island Fox (fastest mammal delisting in history), reviews habitat recovery following feral animal removal, and addresses the importance of collaborations.
About the Symposium and Pritzlaff Award
The annual Santa Barbara Botanic Garden Conservation Symposium, established in 2012, addresses topics that are critical to environmental conservation in the region, as well as nationally and internationally. It returned virtually in 2022 after a one-year gap in 2021 due to the COVID pandemic, and this year is presented both in-person and streaming online.
Established in 2007, the Honorable John C. Pritzlaff Conservation Award recognizes conservation achievements in California and around the world. It honors the former Garden Trustee's life-long commitment to conservation and serves to inspire others to understand the importance of conservation and to take action. Past winners include Richard Louv, author and co-founder of the Children & Nature Network (2020); Gretchen Daily, Ph.D., Stanford professor and founder of the Natural Capital Project (2019); and most recently Carla D'Antonio, Ph.D., professor and researcher at the University of California, Santa Barbara. See full list at https://sbbotanicgarden.org/conservation/our-honorees.
# # #
Download High Resolution Photos at https://bit.ly/3iJOCL4