Garden Family
By Santa Barbara Botanic Garden
Four generations of the Margolis family have now walked, played, learned, explored, and celebrated here at the Garden. Paul and Phyllis have been Members for over 40 years, and they say that the Garden is part of who they are and what they love about Santa Barbara. Both teachers, they have always enjoyed learning through a natural sense of curiosity and inquiry. They appreciate that the Garden is a place to learn about the natural history of Santa Barbara and to observe how the world works.
To the Margolis family, the rest of the world falls away in the Garden and they can experience the sights, smells, and sounds of nature by stopping everything else to just enjoy where they are. Phyllis describes walking up the meadow and down into the redwoods as "transcendental." She encourages us to be mindful of the experiences that can be lost or diminished when we let things like phones distract us, and instead allow our senses to open up in natural spaces. In the Garden, she gets a sense of being somewhere special that recalls memories of childhood, and of watching children and grandchildren grow up here.
Since they first moved to the Mission Creek area in 1972, Paul has removed all the non-native plants from their yard. They've brought plants home from our nursery over the years to create a mini botanic garden of their own, putting to work the lessons learned from the native plants and habitats displayed throughout the Garden grounds. Phyllis says their yard now looks a lot like the Garden.
For their 25th wedding anniversary, Phyllis purchased a bench in the Garden as a surprise gift to Paul. She remembers bringing him with their son and daughter for a walk into the canyon on that day, and as they approached the bench, he noticed that it was new. Phyllis asked him to check the inscription on the bench's plaque and says he "lost it" when he read his own name. They pulled out a bottle of champagne right there, taking photos and celebrating in this place that had just been made even more special to them. For another anniversary, Paul updated the plaque to include Phyllis' name.
After the Jesusita fire came through the Garden in 2009, they worried that the bench might have been lost in the damage. Phyllis admits that she snuck into the Garden while it was closed to check that it was still there. It was, and still is today, inscribed with their names and the phrase from their wedding invitations, "To love is to be whole." Phyllis says that since the bench survived the fire, they had to stay married. This year they are celebrating 50 years of marriage, enjoying peaceful walks in the Garden to get away from it all, and appreciating the tranquility of their favorite place.
Explore Insights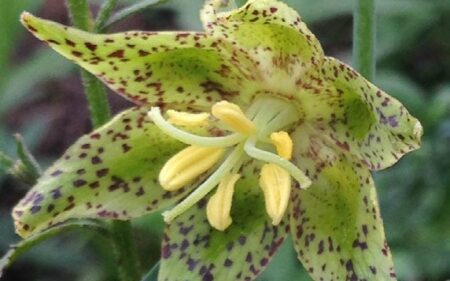 •
Botany, Conservation & Research
•
Conservation & Research, Gardening with Native Plants