•
Member & Donor Stories, Garden News
October 23, 2023
Seven Questions with Executive Director Steve Windhager, Ph.D.
By Kaylee Tu
As we approach a new season here at Santa Barbara Botanic Garden, we're tackling ambitious new goals to dramatically transform landscapes along the California central coast by 2030. It's our most audacious challenge yet — to ensure the survival of every native plant in our region and all life that depends on them.
We're continuing our vital work in the wildlands, but we also aim to do more to change the way landscapes around homes and businesses in California are managed. This is key to ensuring the survival of the incredibly diverse flora and fauna in this region.
Join us in this episode of "Seven Questions" as we walk with the Garden's Executive Director Steve Windhager, Ph.D. to learn more about him and his perspective on the Garden's work to conserve native plants – the foundation for all life on Earth.
What's your favorite part about being executive director of the Garden?
[Steve] I've been executive director now for 13 years. What keeps it fresh and really special is the fact that I get to celebrate biodiversity every day and talk about native plants and how important they are to preserving the diversity of life on the planet. I get to sort of be the Johnny Appleseed of native plants here in Southern California and try to help spread the gospel of how important plants are.
Do you remember what first inspired you to pursue conservation work?
[Steve] I was first inspired when I was getting my degree in environmental ethics. I decided that I didn't want to just talk about the importance of the environment, I wanted to actually do something to make it better. So I started working on a Ph.D. in environmental science, focusing on ecological restoration. All of that just snowballed to take me here today.
We've been hearing a lot about California's 30 X 30 initiative. What exactly is that?
[Steve] The 30 X 30 initiative here in California is about preserving 30% of California's coastal oceans and our land space to preserve biodiversity. This is especially important as we face the threats of climate change and a whole host of other development issues that are making it hard for many species to continue to live. The 30 by 30 initiative makes sure that we have all the resources in place so they can continue to thrive.
You can learn more about California's 30×30 initiative here.
Speaking of biodiversity, what exactly is it and why does it matter?
[Steve] Biodiversity is the entire web of life. It's every living thing that's out there. It's the plants, it's the birds, it's the insects, and it's the large mammals. It's everything that makes the planet function.
Aldo Leopold [considered by many as the father of wildlife ecology and the U.S. wilderness system] said, "The first rule of intelligent tinkering is to keep all the parts. We want to make sure that we don't lose any of the species on the planet because we don't know what consequences we will have to face. However, we know that when we've lost them in the past sometimes it's been pretty, pretty catastrophic.
What's one thing that people could do in their garden tomorrow to help biodiversity?
[Steve] First thing, plant a native plant! There are so many great native plants to choose from. If you want to increase butterflies or hummingbirds in your garden, there are good native plants that can help, but if you really just want to plant a native oak tree, that's a great choice too.
What's one thing about yourself that people would be surprised to hear?
[Steve] I'm a woodworker and feel so fortunate to work here at the Garden. Occasionally we have these beautiful oak trees fall down and I'm able to take some of the wood and mill it up to produce furniture – giving it a second life. [You can see some of my work around the Garden.]
Why is it important for people to support the Garden's mission?
[Steve] The garden's mission has never been more important. Species are under threat across California as we face climate change and other threats of development pressure that make it harder and harder for them to continue to exist. It's critical that we have the support of our friends and allies to make sure that native plants are able to continue to be out there in the wild, but also in our own home gardens. When native plants thrive, native diversity, wildlife, the bugs, birds, and bees that really make this life work still are around. It's critical that everyone, whether it's a small gift or a large gift, everyone helps to give native plants a home.
Explore Insights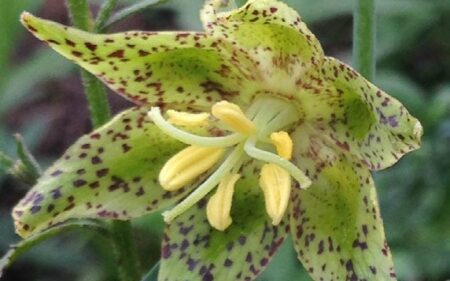 •
Botany, Conservation & Research
•
Conservation & Research, Gardening with Native Plants