•
Member & Donor Stories, Garden News
November 6, 2023
Seven Questions with Frank Quezada from the Housing Authority of the City of Santa Barbara
By Jaime Eschette
Inspired in part by his personal story, Frank Quezada has built a career fueled by his passion for providing access to the natural world. What started as a means to give Housing Authority of the City of Santa Barbara (HACSB) residents membership to the Garden, turned into an exciting new program benefiting youth from kindergarten to sixth grade.
Kicking off with the 2023-24 school year, with support from the Robinson Foundation, this collaboration will have a profound impact on low-income families and youth. By providing access to the Garden's education and recreation programs, we are reaching the next generation and beyond to spark an interest in nature and inspire our youth to consider careers in botany, biology, geology, oceanography, zoology, and more.
Join us in this episode of "Seven Questions" as we walk with Frank, housing program analyst at HACSB, to learn more about him and why a partnership with the Garden was a perfect fit.
How'd you first get into this work?
[Frank] I've actually been with the Housing Authority for 33 years now. I've grown with the agency along with our Department of Residence Services.
How'd you first hear about the Garden?
[Frank] I've actually known about the Garden ever since I was a little kid. Every year when I would come up and visit my uncle, he would make sure and bring me to the Garden.
How did the Housing Authority first get involved with the Garden?
[Frank] The Housing Authority first wanted to provide access for housing authority residents so we reached out to the Garden and started by providing them with Garden memberships. Then, we continued talking with the Garden Team, wrote a grant together, and developed our new [after-school] program benefiting kids from kindergarten through sixth grade.
Can you tell me a little bit more about this after-school program?
[Frank] The after-school program benefits kids from kindergarten to sixth grade. Through our new program, qualifying kids are able to come on a field trip every Thursday and receive education and access to the Garden.
Why is it important for these families to have access to the Garden?
[Frank] It's important because it will provide them with not only access but also education. It will also stimulate the kids so, hopefully, one day in the future, they'll have an interest in pursuing careers in conservationism.
Do you have a favorite native plant?
[Frank] Oh! My favorite native plant is the sequoia tree. I've been to Sequoia National Park countless times. We actually had a program benefiting housing authority teens where we took them on a week-long volunteer camping excursion. Unfortunately, that program came to a sunset, but I hope to be able to restore a similar program like that sometime in the future.
Last question, Frank. Why are partnerships such as these so important?
[Frank] Partnerships like these are important because they provide our families access to something that they otherwise would not have access to because of their limited resources. We hope this experience provides our youth with educational opportunities and hopefully instills in them an interest in the outdoors and conservationism.
Thank you so much for answering seven questions with the Garden, Frank. Any parting words for our community?
[Frank] You're welcome and I hope everybody watching this will consider sponsoring the Garden
Explore Insights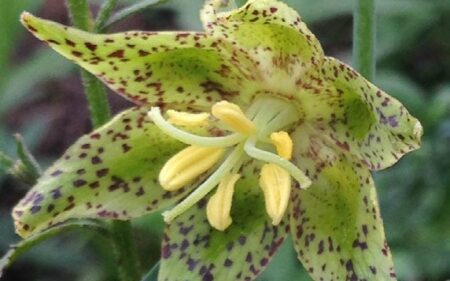 •
Botany, Conservation & Research
•
Conservation & Research, Gardening with Native Plants