Where the Wild Things Have Always Been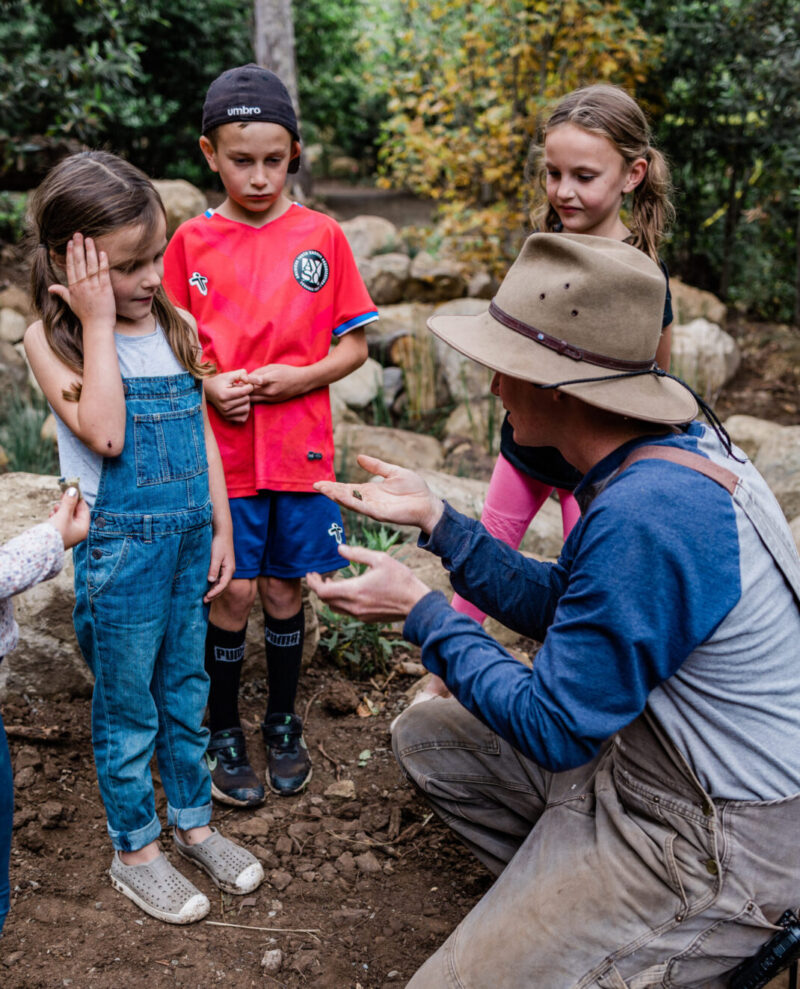 Seeding the Future
Summer Camp at the Garden
Located in Mission Canyon, Santa Barbara Botanic Garden's 78-acres offer many opportunities to explore. With more than five miles of walking trails including a children's garden, an herbarium, seed bank, research labs, library, and a public plant nursery on-site, the Garden provides a perfect backdrop for a fun Santa Barbara summer camp experience.
Campers ages five to 10 will discover the wonders found within California habitats while learning what makes our home so unique and worthy of protection. Families can choose from a variety of camp programs focusing on nature connection, native plant conservation, or outdoor discovery offering children an opportunity to explore native plant habitats in a safe environment.
Registration is now open, but space is limited so be sure to register today!
Contact
Summer camp team
(805) 682-4726 x 161
Inspire the Future
Become a Counselor in Training
Looking to earn high school community service hours? Our counselor-in-training (CIT) leads build their skills working with children while discovering how California's native plants support healthy ecosystems.
To qualify, you must be between 14 and 17 years old, available June 3 and 4 for training, and commit to volunteer for at least three camp sessions.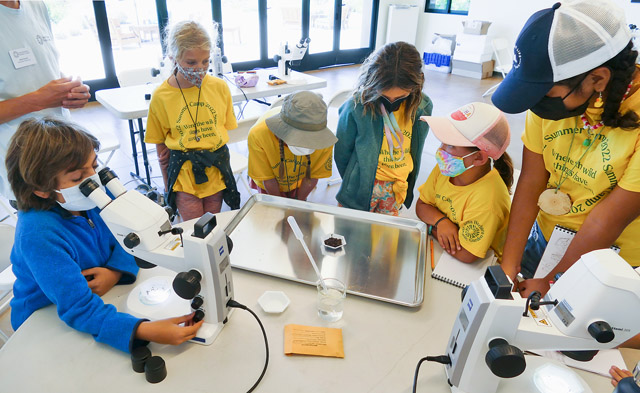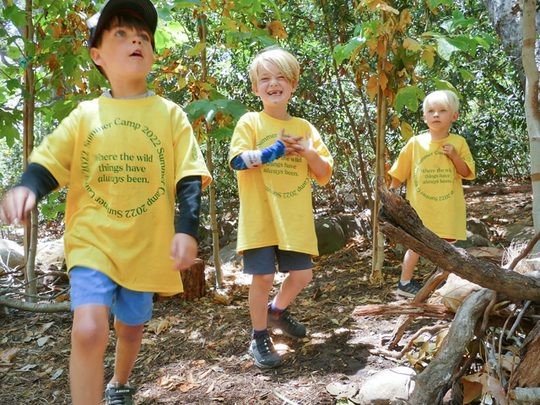 Summer Camps for Ages 5 to 6 Years Old
For your youngest adventurers, we have three unique camp offerings available. Our camps can be mixed-and-matched from week-to-week to offer your little camper variety, or they're welcome to return.
Whatever makes them the happiest!
Camps runs Monday through Friday, 9 a.m. to 3 p.m. with extended day option from 3 p.m. to 5 p.m.
Cost: $325 and $100 per week for extended care
Acorn Adventurers
June 12, June 26, July 24, August 14
Adventures await at the Garden. Connect with the natural world and each other through outdoor play, crafts, and exploration.
Build an understanding and appreciation of the natural world as you move, create, and explore within the Garden.
Super Pollinators
June 19, July 17, July 24, August 7
Who needs Superman when you've got pollinators? From super speed and mega memories to night vision and shape-shifting, pollinators have incredible abilities!
Come discover the super powers of our amazing pollinators. You'll see first-hand how plants and animals work together to create a brighter future for us all.
Tree-lates for Our Bodies
June 19, July 10, July 31, August 7
Let's flex our nature-muscles as we engage our bodies and minds in the outdoors. Find challenges in nature to build confidence and know-how for not only yourself, but the world around you.
Summer Camps for Ages 7 and 8 Years Old
As your camper get a a little older, we offer three unique programs designed to be the right mix of adventure and discovery. Campers are invited to grow their knowledge week-to-week, or they can mix it up and keep exploring.
In nature, there is always something new to uncover.
Camps runs Monday through Friday, 9 a.m. to 3 p.m. with extended day option from 3 p.m. to 5 p.m.
Cost: $325 and $100 per week for extended care
Sense of Nature
June 12, June 26, July 17, August 7
How do our senses help us understand the world around us? We'll stop and smell the California roses, walk barefoot in the creek, listen for our woodland birds, and more.
Come discover how your senses can be a powerful tool for exploration.
Built California Tough
June 19, July 10, July 24
Surviving in California is not for the faint of heart. With unpredictable rainfall, regular fires, and long, dry periods, plants must adapt to survive in our unique environment.
You'll discover the incredible survivor skills used by our native flora and learn how we've utilized similar processes for our own survival.
Outdoor Creations
July 10, July 31, August 14
Nature has been a source of inspiration for creativity and the for thousands of years.
Find inspiration from our native landscapes to express your imagination and creativity. Explore multiple forms of creative expression including, nature sculptures, painting, storytelling, and more.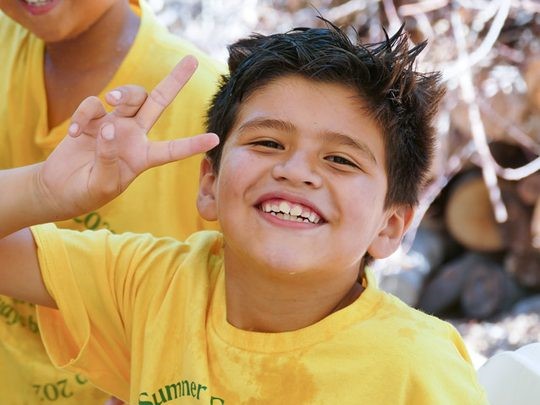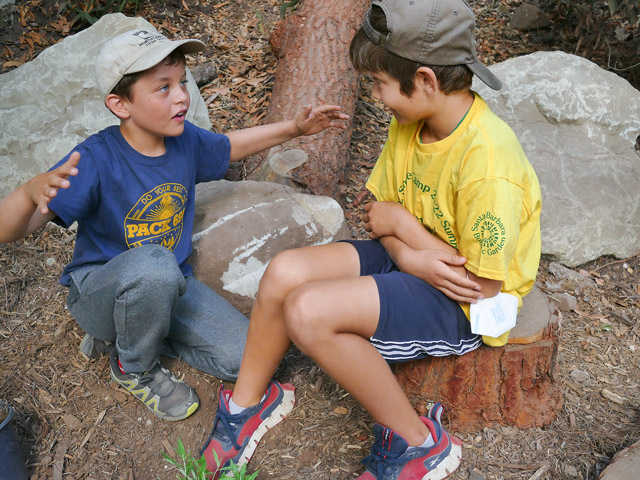 Summer Camps for Ages 9 to 10 Years Old
When it's time to level up, your eldest adventures get to choose between two action-packed and inspiring camps.
Or they can join us for both!
Camp runs Monday through Friday, 9 a.m. to 3 p.m. with extended day option from 3 p.m. to 5 p.m.
Cost: $325 and $100 per week for extended care
Neighbors in Nature
June 12, July 17, August 14
What do Anna's hummingbirds, dusky-footed woodrats, and California coyotes have in common? They all make their homes in the oak woodlands surrounding Santa Barbara.
Discover more about our woodland neighbors as we explore their diverse habitat utilizing real techniques used by naturalists.
Forest Detectives
June 26 and July 31
Mysteries happen around us every day. However, they often go unnoticed or unanswered without keen detective work. Come explore the many mysteries found in the outdoors and develop detective skills through the art of careful observation.
Campers discover how the Garden's scientist utilize detective skills to make discoveries and protect our native habitats.
Summer Camp FAQ
What should my child bring to camp?
Please make sure your child comes to camp with the following materials. If you require assistance with any of these items, please let us know.
Water bottle: 16 oz. minimum, filled
Backpack
Bagged lunch
Two healthy snacks
Spare clothes: one set for the week
Closed-toed shoes
Well-fitted, CDC approved face mask
Hat
Sunblock
On the first day, you will be provided with two camp t-shirts. Please make sure your child wears their shirt daily.
What is your cancellation policy?
Participants must cancel no later than 15 days prior to their camp's start date in order to receive a refund, minus a 10% admin fee.
In order to cancel or change your camp reservation, sign into your UltraCamp account, go to your reservation page and select the session you'd like to change. From there, you can cancel or edit your session information.
I didn't get a spot. Do you have a waitlist?
Yes. If a camp is sold out, we encourage you to join our waitlist. When a spot opens, we will notify families directly.
To join our waitlist, you'll want to go through registration for the program you want. If it is unavailable, you'll be automatically added to our list.
Is there a dress code at camp?
Each camper is provided with two camp t-shirts. We ask that campers wear these shirts during camp hours, daily.
During camp, kids will be engaging in a variety of outdoor play activities and should wear appropriate clothing to suit those activities. For example, we suggest sturdy, closed-toed shoes, comfortable clothing for running and climbing, and a hat.
What is the counselor to camper ratio?
The safety of our campers and staff is our top priority. Our counselor to camper ratio is 1:8 with two staff counselors working with no more than 16 participants per group. Additional volunteers may also be present depending on the activity or age group.
Do you have scholarships available?
Santa Barbara Botanic Garden partners with the Police Activities League Campership Alliance program to distribute and award camp scholarships. Please see their site for more information on obtaining a camp scholarship for Summer Camps at the Garden.
How do I leave an emergency message concerning my child?
The best way to leave an emergency message is by contacting the youth and family program manager via email or phone (their contact information is provided in your orientation packet). If you cannot get a hold of them, contact our Front Kiosk at (805) 682-4726.
In the event of a red flag warning, is there an alterative location we will meet?
Under the Garden's county-issued conditional use permit, we must close the Garden in the event of a red flag warning. If the Garden must close due to a red flag, camp programming will be moved to an offsite location. These notices often come with 24 to 48 hours of lead time. If, for whatever reason, camp programming cannot be moved offsite, participants will receive a full refund for the day. You will be notified by email as soon as possible if we are placed under a warning.
What is the drop-off and pick-up location for camp?
Drop-off and pick-up are located at the Garden's front entrance at 1212 Mission Canyon Road.
When driving up Mission Canyon, the Garden parking lot entrance will be on your left (Note, you'll pass the parking lot exit on your left first). Once you pull in, there will be designated parking spaces for your specific camp program. Please drive carefully as the parking lot will be busy during these times.
Who can pick up my child from camp?
Only the parent, guardians, or individuals 18 or older who have been identified on the camper's Pick-Up Authorization List in UltraCamp are allowed to pick up from camp. Campers will not be released to anyone not on the authorization form so please make sure your form stays current. A valid photo ID must be presented at pick up daily.
Can I pick up my child early or drop them off late?
If you have to pick-up your child before 3 p.m., please communicate with a staff member at check-in. They will arrange for someone to bring your child to the entrance at the designated time to be signed out. Regular sign-out procedures still apply with early pick-up.
If you need to drop your child off late, please inform a staff member at check-in. We ask that you give us at least one day prior notice, or contact the youth and family program manager for arrangements.
What happens if I am late picking up my child?
If your child is not picked up by 3:30 p.m., they will be sent to our extended day program. Families who use our extended day program will be charged a $20 enrollment fee per day.
Our extended day program ends promptly at 5:30 p.m. If your child is not picked up before this time, you will automatically incur a $15 fee plus an additional $15 for every 15 minutes of extra supervision.
How does COVID-19 impact camp?
Santa Barbara Botanic Garden's COVID-19 protocols align with Santa Barbara County Health officials and CDC guidelines. As part of our protocols, depending on the local COVID status, the Garden may implement additional procedures, for example, a daily health screening or indoor mask requirement.
Do I receive a refund if my child is sick?
Prorated refunds for up to two full days of camp fees are available for campers who are asked to stay home due to illness or COVID-19.