Barbara Holzman, Ph.D.
Barbara studies vegetation dynamics.
Research Associate Barbara Holzman, Ph.D., studies vegetation dynamics. Her California research foci have included Point Reyes conifer regeneration, Farallon Islands vegetation change and plant invasions, blue oak (Quercus douglasii) woodland regeneration, and conservation of Ione endemic plants. She cofounded the Environmental Studies program at San Francisco State University, where she was a professor of geography until her retirement in 2016. Barbara earned her doctorate from University of California, Berkeley.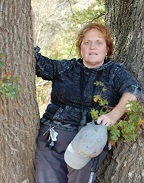 Research Associate